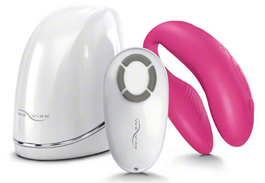 The We-Vibe 4 is almost here. It's smaller than the We-Vibe 3, with a much-improved remote. But it's only available in purple and pink, so I'm just gonna go to their HQ and stab someone real quick — BRB.
LELO sneaked up on us with their newly-released Ida, which I loathed, so let's move on to something hopefully better: KEGEL BALLS! They're called Hula Beads, so I can only assume they are made of balled-up palm fronds. Apparently they rotate, vibrate, and respond to the squeezing of PC muscles. We'll see.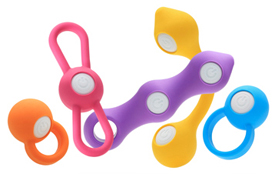 Tenga has a new line called Vi-Bo (ooh, they took out the r!): weird shapes and "orbs" that take watch batteries. The one that looks like an exercise device? You're supposed to stretch it across your palm. God help you, though, if you watch the teaser video for this line. Brain cells will be lost.
A company I've never heard of has released semen-like lube. Welcome to the club.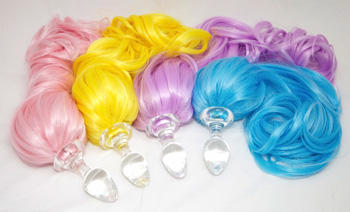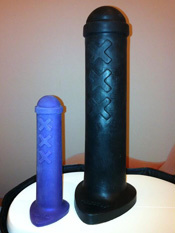 Crystal Delights now has brightly-colored pony plugs, so you can be the My Little Pony of your dreams. Sadly, these do not come with symbols to stick on your flanks.
Tantus has some new stuff that is being slowly rolled out. One of those things is the Amsterdam. You cannot fathom just how big that black one is. "Beast" is not a strong enough word.
Topco has reached a new low, as they've struck a deal with teen mom Farrah Abraham for a new toy line. In her porno she was completely incapable of properly using a dildo, so I am disturbed.