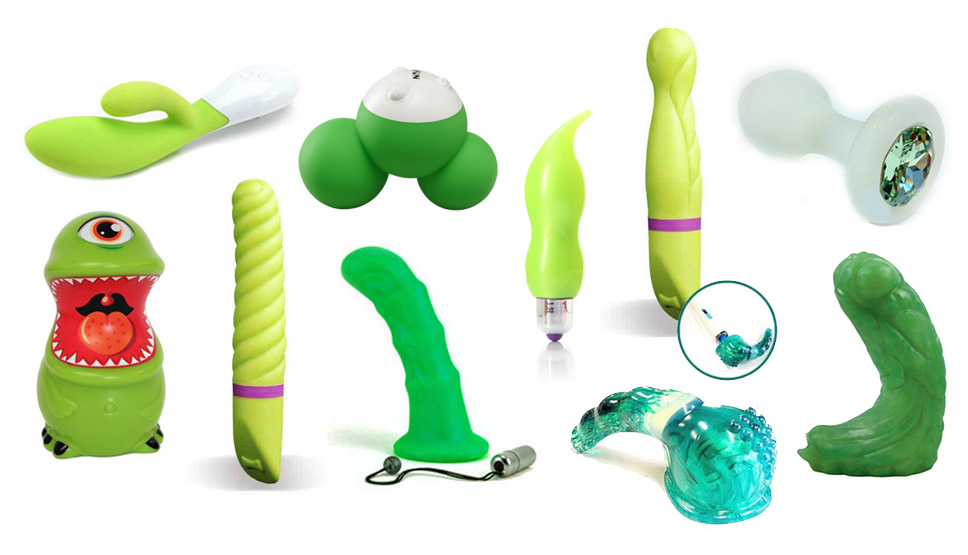 I've never been a big participator in St. Patrick's Day. I don't go out and get wasted on Irish Car Bombs, nor do I specifically remember to wear green every year. But I do have quite the affinity for the color green. Green is one of the most under-used colors in the sex toy market, and it's time someone honored the toys/companies that dare to go there. Thus, a giveaway! For St. Patrick's Day, yes. But mostly for green.
I have 10 green toys to give away!1 I was able to wrangle a little something for everyone — dildos, vibrators, a Hitachi attachment, a butt plug, and a toy for cocks. As long as you like green2, there should be something enticing for you here. Read about all the toys, then scroll down for how to enter.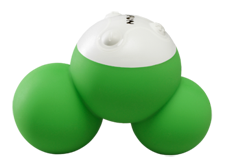 Yooo courtesy of Babeland
Fun Factory has always been awesome at making toys in a variety of great colors, and their brand new (and hilariously-named) Yooo is yet another example of that. This crazy rechargeable vibrator is very strong — it has two motors, one in each bulb. How do you use it? That's up to you!3

Tease courtesy of Tantus
This adorable little pipsqueak of a vibe is from Tantus' super-new Little Secret line. The Tease comes in a delicious shade of neon green, and looks to be the perfect toy for those who like a flickering touch.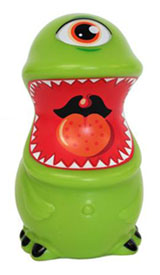 Man Eater from Outer Space courtesy of Good Vibes
It took me forever to figure out how the eff this thing works, but basically, you slide the monster's gaping mouth up and down your cock. It vibrates. It's fun. It's a one-eyed sharp-toothed beast thing. Why not?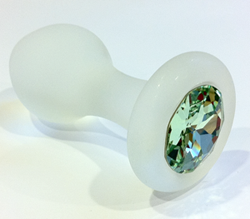 Frosted Delight Plug courtesy of Crystal Delights
JUST LOOK AT IT. It's a freakin' hand-crafted glass butt plug with a Swarovski crystal in it. This is a new, frosted one — the texture is brushed, but smooth — with a mint green crystal. Of all the toys in this giveaway, this is the only one that can really be worn on St. Patrick's Day. Therefore, I dare you to put it in your ass while sporting no green apparel whatsoever.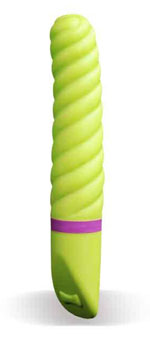 Candy Stick courtesy of Papaya Toys
I've already given away a Candy Stick in the past, but whatevs! I love the Candy Stick. It's a thick (1 3/4″ in diameter), swirly vibrator with a nice range of vibration strengths, and it's waterproof. It's one toy about which I have no complaints, which is very rare.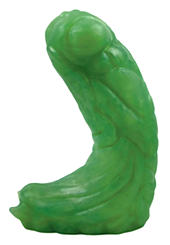 Sara the Playing Mantis courtesy of SheVibe
It's a dildo. It's a praying mantis. It makes no sense. How can you pass it up?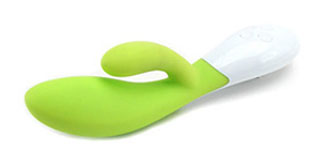 When I first saw that LELO was making toys in this bright lime green color, I basically died. And yes, it is just as beautiful in person. Ina is a rechargeable rabbit vibe that doesn't look ridiculous like 99% of rabbit vibes. If you like pressure on your clit, Ina will make you very happy.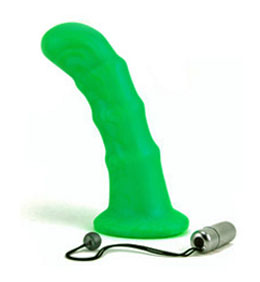 Astrovibe courtesy of Vixen Creations
The color of the Astrovibe is stunning — a vibrant grass green with iridescent swirls. And it's nice and thick, at 1 7/8″ in diameter. Perfect for those who want girth without a lot of texture.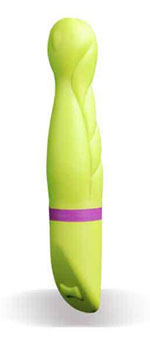 Turtle courtesy of Papaya Toys
Also by Papaya Toys, the Turtle is a lightly-textured, girthy (1 3/4″ in diameter) vibrator with a pronounced head. Like the Candy Stick, it is fully waterproof and has a variety of vibration strengths. Papaya Toys is one of the only companies that offers a green version of every single one of their toys. Fab.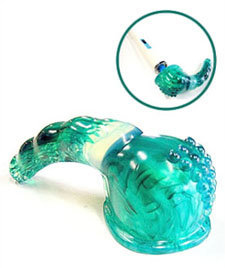 Gee Whizzard courtesy of Vixen Creations
Glorious, glorious swirls abound on this sea green Hitachi attachment. Yeah, it may look like Gonzo's nose, but just imagine channeling the power of the Hitachi through this curved, bulbous thing. It can't be anything less than awesome.
How to enter
There are so many ways! Do as few or as many as you'd like. For each of these, please comment on this post alerting me that you have done them, and note which toy you are entering for. Please choose a toy or two that most interest you, rather than trying to enter for everything.
1 entry — Leave a comment on this post telling me which toy you want and why.
2 entries — Subscribe to my RSS feed or email updates (you want to know when I have my next insane giveaway, right?!).
1 entry each — Follow me on Twitter and tweet about this giveaway up to three times, linking to this post. Example: Not enough sex toys come in green. @Epiphora is celebrating those that do by giving away 10 of them! http://bit.ly/greensextoys
2 entries — "Like" Hey Epiphora on Facebook.
3 entries — Reblog this particular post on Tumblr.
3 entries — Add one of my banners to your blog.
5 entries — Blog about this giveaway. Here are two images you can use: without toy names and with toy names. Don't hotlink, please!
The winner of each toy will be chosen by a random draw of all those who entered for that toy.
Restrictions — please read!
The Frosted Delight Plug and LELO Ina can be shipped anywhere in the world. Here are the shipping restrictions for the other toys. Please take note of them before entering.
Yooo: winner must live in the continental U.S.
Tease: winner must live anywhere but Alabama.
Man Eater from Outer Space: winner must live in the U.S.
Candy Stick and Turtle: winners must live in the U.S.
Sara the Playing Mantis: winner must live in the U.S. or Canada.
Astrovibe and Gee Whizzard: winner must live in the U.S.
Deadline: March 14th, 2011 at 11:59pm PST.