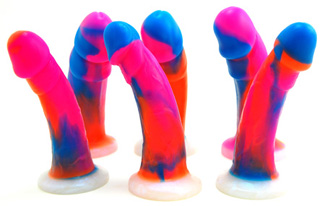 So I'm pretty sure my neon and tie dye VixSkin giveaway has been my most successful giveaway to date. AND WHY WOULDN'T IT BE? WHO WOULDN'T WANT NEON AND TIE DYE DILDOS? Take notice, world. People like things that are not pastel pink!
Anyway, the winner I've randomly selected is Maggie Munkee, who chose a tie dye Maverick. Freaking congrats!
HUGE THANKS again to Searah of Early to Bed for understanding my fervor and supplying this incredible prize!