So after screaming "IS THIS REAL LIFE???" and recovering from my initial heart attack when I heard about these new toys yesterday, I knew my next mission: get one into the hands of one of my readers, STAT. I could not just announce the existence of these dildos without giving one away. Thank goodness Searah of Early to Bed, who emailed to alert me of this development, was totally on board. She's a boss.
For years, I've been complaining — and people have been complaining to me — that Vixen's VixSkin dildos only come in skin tones (the one exception being Raquel). And you know how I personally feel about neon colors and Vixen's dual-density VixSkin material. WELL HERE THEY ARE, COMBINED INTO AN EXPLOSION OF AWESOMENESS.
Vixen Creations has just launched three new color options for two of their dildos, the Maverick and Mustang, which JUST HAPPEN TO BE my favorite VixSkin dildos in existence. The colors are called Fluor-a-Pink, Tie-Bright, and Fluor-a-Green, and apparently the pink and green glow under black lights, for all your dildo-at-a-rave needs. All the dildos have a beautiful white pearlescent base.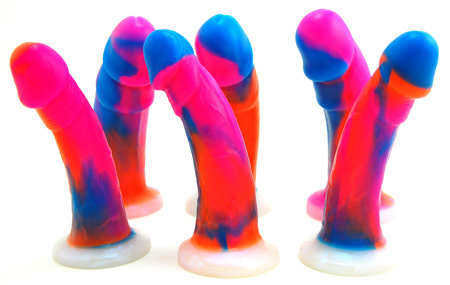 The winner of this giveaway will get the dildo of their choice — Mustang or Maverick — in the color of their choice. You cannot, and should not, resist this opportunity. Enter using the Rafflecopter widget below. Winner must be over 18 and live in the U.S. Winner will be chosen randomly.
Important! You need not enter with your real name, nor are you required to login via Facebook. Just click "use your email" to get started. You can only tweet for an entry once, so come back and submit the entry later if you don't want to tweet right now.
This giveaway ends on September 5th, 2012 at 11:59 p.m. EST.
Thank you thank you THANK YOU to Early to Bed for providing this prize!
Give them some motherfucking LOVE for this!