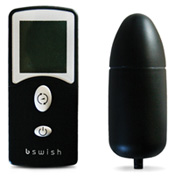 It's okay. You can be wary of the Bswish Bnaughty Unleashed. I was too. And sadly, having tried it now, I still am.
I was really hoping for a triumph. So many remote vibrating bullets suck royally. Many of the bullets are loud. They malfunction. They fail miserably at being discreet. Some aren't waterproof, which becomes a problem when, uh, juices, come near them. Some have a whopping one speed. Many are purple or pink. Most take watch batteries, which are not only expensive and annoying as hell to insert, but also notorious for dying quickly.
And then, of course, it's not unusual for remote bullets to die. Not unusual at all. Which is what happened with my previous remote toy, the Cry Baby.
I was really, really hoping the Bnaughty Unleashed would overcome these issues. Bswish did a pretty good job with their newish rechargeable clit vibe, the Bcurious, so my hopes were high. But, like apparently every remote bullet on the planet, the Bnaughty Unleashed has its share of problems.
The Bnaughty Unleashed is essentially a bullet vibrator severed from its cord and paired with a remote that can be given to a partner/friend/stranger. Just so we're clear, this bullet is meant to go up your vag. It's 3″ long and 1.25″ in diameter, made of velvety plastic. It has a 3.25″ plastic, looped retrieval cord attached to its base (not pictured — I have no idea why) that feels very sturdy and semi-rigid. The top of the bullet unscrews to reveal an O-ring (yay, water- and vag juice-proof!) and spaces for three N batteries. The remote takes one 23A battery. Thank god these batteries are included, because having to buy two different kinds of battery for one sex toy is pretty ridiculous.
Also pretty ridiculous: how quickly these batteries die. And how once they start dying, the range on this toy gets smaller and smaller. The first time I tried the Bnaughty Unleashed, briefly, the remote worked through walls. The second and last time I tried it, it only worked 20 feet away if there wasn't a wall between us. The vibrations felt nice when they were strong, but not worth it when they were weak. It got to the point where the first setting felt almost like nothing. Then the second setting felt almost like nothing. Then I got sick of trying to discern whether the bullet was still vibrating, so I turned that sucker off and pulled it out of my vag.
On the bright side, insertion is very smooth, and removal is painless. Also, the vibrations aren't horribly loud, and won't give you away unless you're in a library.
Oh, and something I didn't mention earlier: the majority of remote bullets are made by bigwig companies that clearly spend about 5 minutes designing the remotes, because almost none of the remotes even have screens. I seriously don't understand the point of a remote bullet/egg if the non-egged partner cannot see which setting the vibe is on. How is my boyfriend supposed to stay excited about messing with me? Anyway, this is one thing the Bnaughty Unleashed gets right. The remote's screen is bright, and there are little numbers and primitive animations for each setting, of which there are ten (three constant, followed by 7 crazy patterns).
I guess, when it comes down to it, the batteries are the biggest problem area for this toy. But the range issues worry me, too. That leaves a couple high points, sure — the light-up screen, the shape and size of the bullet itself, the vibrations at the very beginning of the batteries' lives — but not enough to justify spending anywhere near $60. $60 should get you a remote bullet that works through walls, at the very least. And doesn't sputter out on its second use. That's how I see it, anyway. It's not the worst toy ever, but it's grossly overpriced.
Get the Bnaughty Unleashed at Pleasure Chest.