I'm not a big Black Friday person. I like deals, but despise having to make any sort of effort to acquire them. That's why sex toy Black Friday and Cyber Monday sales are the best. They almost never require you to change out of your pajamas.
So far I have deals from GoodVibes, Babeland, LELO, SheVibe, Tantus, Sexcuse Moi, Lovehoney, Fleshlight, Early to Bed, Jimmyjane, PinkCherry, Stockroom and, Aneros, plus porn-tastic sales from Crash Pad Series and Pucker Up. I even have some special coupons you won't find anywhere but here.
I will be continually updating this post as more sales pop up, so use that refresh button!
My favorite deals (toy name links to my review):
njoy Pure Wand for $66 at PinkCherry (code FRIDAY) (Out of stock)

LELO Mona 2 for $111.20 at LELO (plus free shipping, code PIPH20) or Babeland
Jopen Comet G Wand for $30 at PinkCherry (code CYBER)
Eroscillator for $145.50 at GoodVibes
NobEssence Romp for $82.50 at GoodVibes
We-Vibe Tango for $50 at Lovehoney
25% off Fleshlight brand products at Fleshlight
Liberator Throw for $66 at PinkCherry (code FRIDAY) (Out of stock)
25% off closeout toys at Tantus (code WINTERWONDERLAND)
40% off all DVDs by Tristan Taormino at PuckerUp (code EPIPHORA)
GoodVibes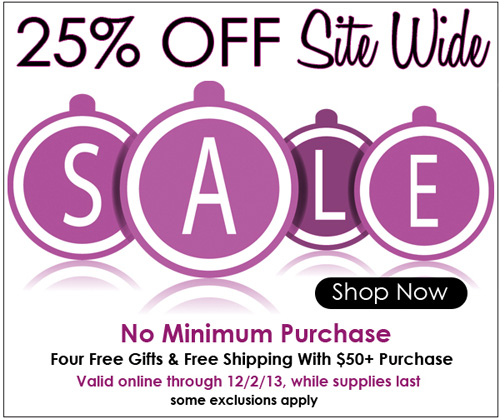 25% off sitewide at GoodVibes (plus four free gifts — hint: they include lube) through December 2nd. Prices change once added to your cart. Almost all the stuff on my favorites page is on sale, so get something from Vixen (I love Mustang, Buck, and Maverick), a Pure Plug, Eroscillator, NobEssence Romp, njoy Pure Wand, Vibratex Mystic Wand, We-Vibe Tango, Magic Wand Original, Tenga Iroha, Siren, and/or Joque.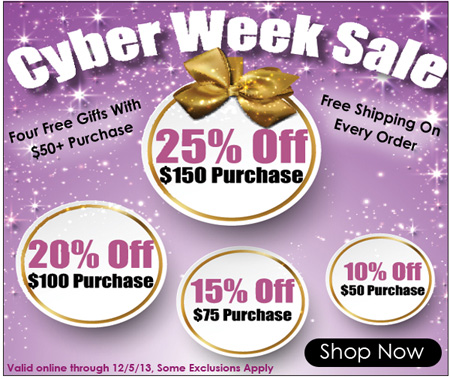 That sale is over, but GoodVibes is now doing a Cyber WEEK sale, with 10-25% off purchase depending on how much you buy (plus four free gifts with $50 purchase) through December 5th.
LELO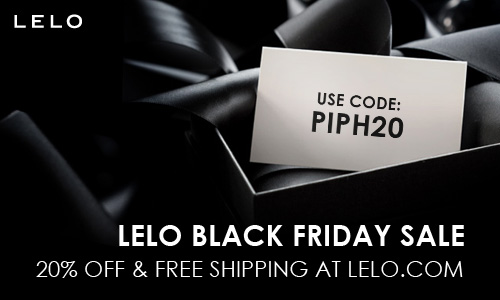 Get 20% off and free shipping (EVEN ON INTERNATIONAL ORDERS!) at LELO with code PIPH20. This code will take effect on Thursday the 28th at 11 am PST and end on Monday, December 2nd at 11:59pm PST.
Do you have a clitoris? You need the Mona 2 (here's why). I also love the Luna Beads (review here), Mia (review here), and Siri (review here).
Sexcuse Moi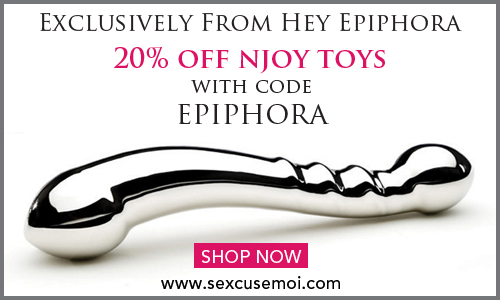 I worked with the lovely folks at Sexcuse Moi to craft this deal just for you, which begins at 12:01 a.m. on Black Friday and ends at midnight on Cyber Monday (across all time zones). Get 20% off all njoy toys at Sexcuse Moi with code EPIPHORA. So get the motherfucking Pure Wand (my review), dude. Or a motherfucking Pure Plug (my review).
Or, if you'd prefer, get 10% off sitewide during this time with code GETLUCKY.
Babeland

Cyber Monday at Babeland means 20% off orders over $50 plus free ground shipping! Use code CYBER13.
SheVibe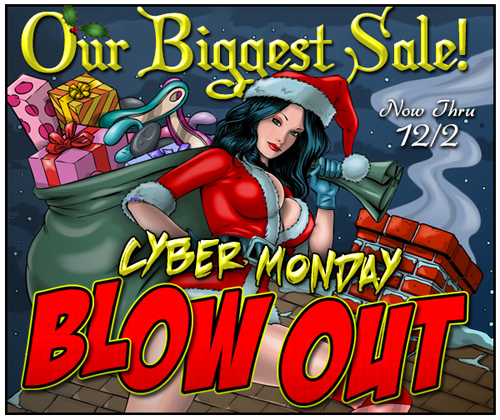 SheVibe has a huge clearance sale here starting now and running through Monday the 2nd — 30%+ off. I spy the Je Joue MiMi, Minna Ola, and Tantus O2 Revolution.
SheVibe also just launched their month-long December deals, which includes 25% off select Fucking Sculptures, discounts on select Fun Factory, 20% off Vanity by Jopen, 15% off EGO by Jopen, and a free travel case with purchase of the Revel Body.
Tantus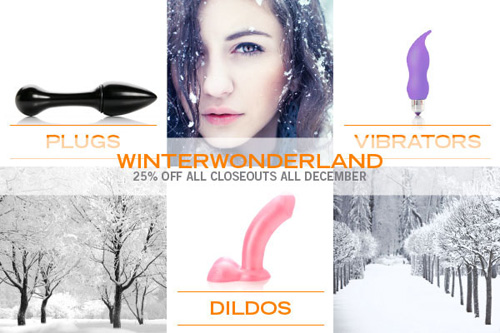 Tantus has 25% off all their already-discounted closeout toys through the end of December. Use promo code WINTERWONDERLAND at checkout.
Tantus also has an amazing Grab Bag section, where you can get highly-discounted toys in surprise (and unique!) colors.
Early to Bed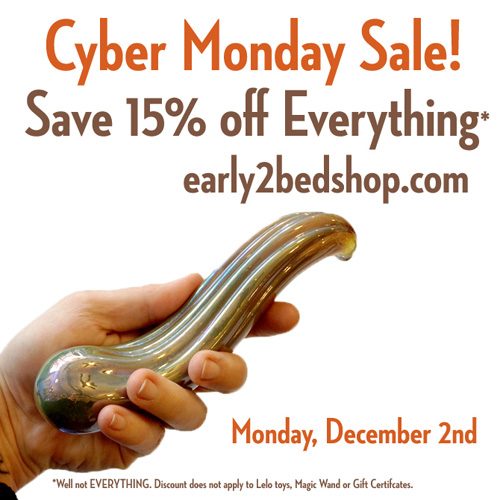 Everything* at Early to Bed will be 15% off on Monday. GET READY.
* with the exception of LELO toys, the Magic Wand, and gift certificates.
Jimmyjane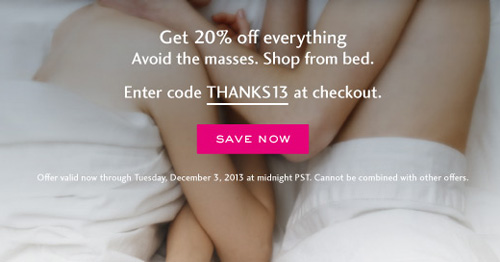 20% off at Jimmyjane with code THANKS13 through Tuesday, December 3rd at midnight PST. Jimmyjane doesn't make much that I like… their Form 4 is okay. But their candles are delicious, and they sell toys from other brands on their site that are better, such as the njoy Pure Plug, Liberator Wedge, and Standard Glass dildo.
Fleshlight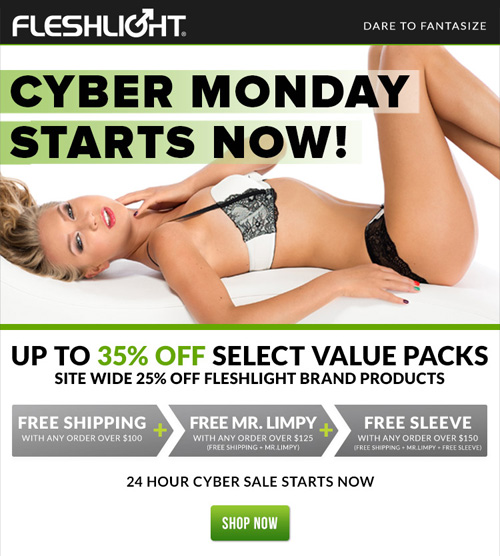 Now through midnight on Monday night, Fleshlight is offering 25% off Fleshlight brand products (read about how my boyfriend looooves his Fleshlight) and up to 35% off select value packs, plus free shipping with orders over $100, free Mr. Limpy with orders over $125, and a free sleeve with orders over $150.
PuckerUp.com store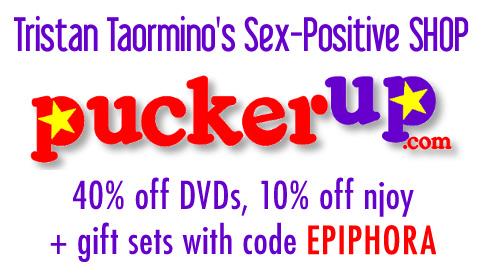 Support a feminist, queer-owned small business by shopping at Tristan Taormino's Pucker Up store. Now through Cyber Monday, every DVD at Pucker Up is 40% off with coupon code EPIPHORA. Need an Expert Guide on Female Ejaculation, Pegging, Anal Sex, or G-Spots? All are 40% off! Want to see some rough sex at a discount? DONE. Missing a volume of the epic Chemistry series? Yep, 40% off. The coupon will even give you a sweet discount on The Feminist Porn Book (my review) and The Big Book of Sex Toys (my review)! You can request an autograph on the books and DVDs, just put your request in the comments when you order.

That's not all! Pucker Up has some awesome gift sets of DVDs, books, and toys, and if you order them this weekend with coupon code EPIPHORA you will get 10% off them! njoy toys are also 10% off with this code, so get a Pure Plug (my review) or go for a Pure Wand (my review).
Crash Pad Series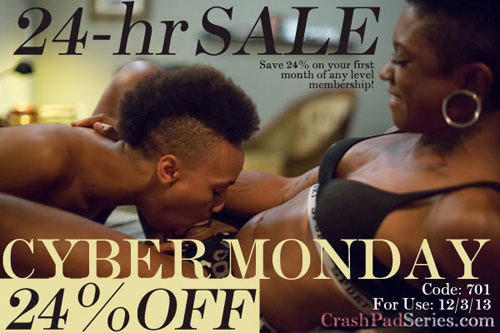 On Cyber Monday (December 3rd), Pink & White Productions will launch a 24-hour sale for 24% off the first month of any level membership to its queer porn site CrashPadSeries.com. Based on the cult classic The Crash Pad, CrashPadSeries.com is a one-of-a-kind membership site, and a virtual hotbed of queer sexuality. Use code 701 to take 24% off your first month membership — at any level!
Lovehoney.com

Get up to 75% off in the Lovehoney Black Friday and Cyber Monday Sale, plus free shipping! Prices have been slashed on toys, lingerie, and more. The We-Vibe Tango is $50 and the LELO Mia is $55. Sale ends Friday, November 29th.
Stockroom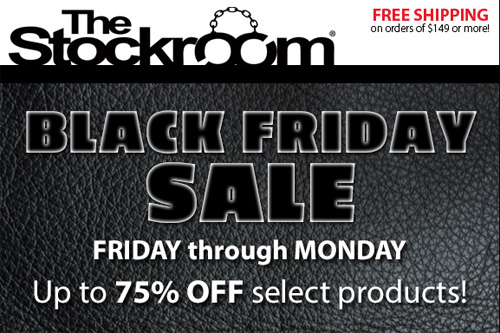 Up to 75% off select toys and gear at Stockroom through Monday. If you want BDSM equipment, this is the place to be. Get 20% off sitewide on Monday with code CYBER5.
Aneros

40% off select products at Aneros. Ends Monday night.