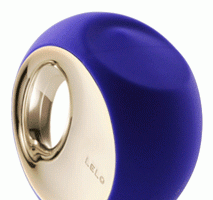 The BIG! NEWS! of the moment is LELO's latest product, the Ora. It's basically a re-imagined SaSi, which I gotta say, I'm not wholly opposed to. I just think it's funny that LELO is marketing this like they thought of it first.

Two steps forward, one step back. Fun Factory's latest is a fucking joke of a thing called Amorino. It has a silicone band around it that is supposed to enhance pleasure for someone somewhere, but is mostly a marketing gimmick so they can liken it to cupid's bow. Sigh.
At ANME, We-Vibe promises updates to their Touch and Tango, Aneros is unveiling a vibrating Evi, and Jopen is adding stuff to their Lust line, including rabbits, anal toys, and clitoral toys (the L3 and L2.5 look interesting).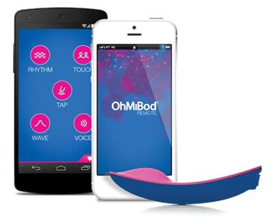 OhMiBod's latest is a Bluetooth-enabled underwear vibe called the blueMotion. It can be controlled with a smartphone and even has a feature for recording ambient sound. The article recommends your lover saying "I love you," but there are much less vanilla possibilities.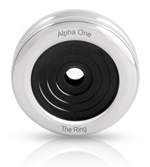 Can we talk about the fact that Jimmyjane is selling what is essentially a stainless steel version of the shitty Monkey Spanker for $250? I swear, Jimmyjane, you make it so easy to hate you.
Cascade Toys, makers of self-lubricating vibrators, now have self-lubricating anal toys.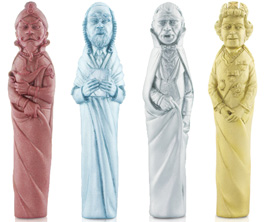 Oh, you thought Divine Interventions toys were scandalous? Behold Masturpieces: Vagenie, Rampant Rabbi, Cunt Dracula, and Buckingham Phallus. They're limited edition, so if one speaks to you…
Since Jenna Jameson has decided she will spread her legs for the adult industry again, I guess it's fitting that her vulva is now a Fleshlight. And speaking of faux vulvas, now your iPad can be equipped with one.
A company called Lovense is making "long distance sex toys" that, of course, are hetero as fuck — the pieces are literally named Max and Nora.