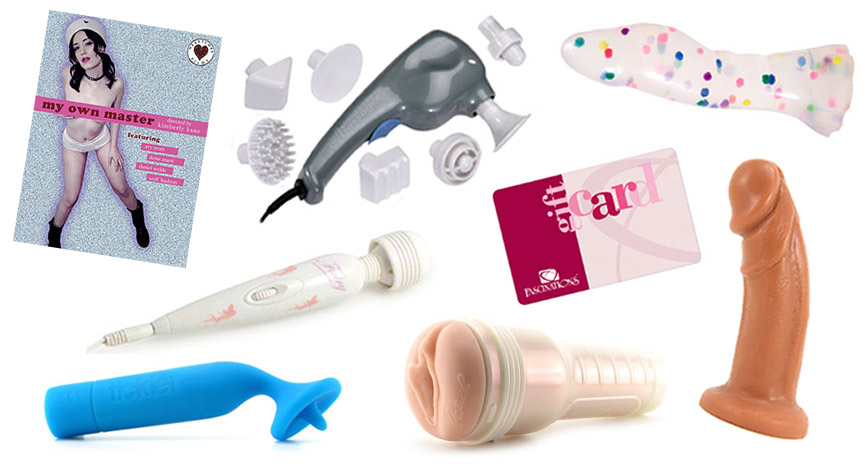 My 2-year anniversary of blogging — and 3-year anniversary of sex toy reviewing — is approaching fast! And of course, I can't resist an opportunity to shower y'all in fabulous prizes. So I contacted some great companies, and they helped me put together a blogiversary giveaway of epic proportions: 8 prizes!
So here are some amazing toys/porn that impressed me in the last year. Enter to win them by following the rules below.
The Vixen Maverick, in caramel VixSkin, donated by Vibrator.com. A thick, luscious, G-spotting wonder made of a material that has climbed to the tip top of my list.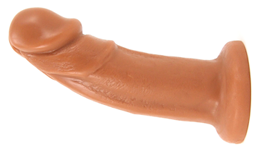 The Wahl, donated by SheVibe. Extremely powerful and freakishly stimulating; a real winner for clitoral stimulation.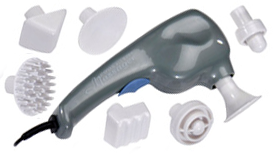 The Jollies Jollet, donated by Kama Sutra Closet. A cute, hard silicone G-spotting dildo that stays where you put it. (Note: Due to unforeseen circumstances, the prize will probably be a sparkle Jollet rather than a polka dot one. Sorry, folks!)

A Fleshlight of the winner's choice, donated by PinkCherry. I gave one away last year, but my boyfriend has found nothing better! The Fleshlight material is just superb, and the range of orifices and textures is dizzying.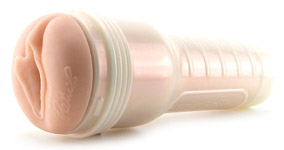 The Seti Toyfriend, donated by Babeland. A crazy-unique vibrator with a shape that really rocks.

The Fairy Mini Mini Wand, donated by MyPleasure. A teeny-tiny Hitachi replacement that brings the power in spades.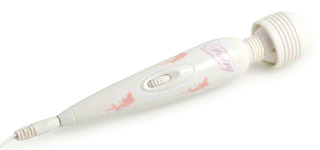 A $100 digital gift card from Fascinations! (My suggestions? Spend it on Siri, Beyond 3, or the Pure Wand, and you will not be disappointed.)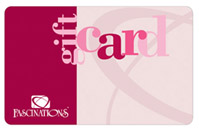 And last but not least, My Own Master, donated by Good Vibes. A boundary-breaking porno with insanely hot chemistry, and dude-on-dude making out (!!!).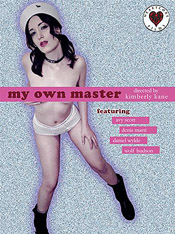 Each of these prizes comes individually, so there will be a total of 8 winners! Best of all, I've set it up so that you can only enter for the toy(s)/porn you are particularly interested in. Check it:
Ways to enter
(None of these are mandatory, so do whichever ones you wish!)
Leave a comment on this entry with an idea for how I could improve this blog, with the name of the prize you want at the end. [1 entry for each suggestion]
Leave a comment on any post on this blog, with the name of the toy you want at the end. Example: This review is disgusting. How dare you blaspheme the color pink! [Fleshlight] You may do this an unlimited number of times, for different prizes if you please.1 [1 entry each]
Blog about this giveaway, and mention which prize you're entering for. [5 entries]
Subscribe to my RSS feed or email updates, and comment here, also with the name of a particular prize. [2 entries]
Tweet up to five times, using this general format: To celebrate 2 years of blogging, @Epiphora is giving away 8 prizes! I want to win [prize you want]. Enter here: http://bit.ly/2yrs8prizes[1 entry each]
Add one of my banners to your blog, and comment here with the prize you want. [5 entries]
I will be choosing winners with a randomizer, so the more you enter for a particular prize, the more likely you will be to win it.
Deadline: October 15th, 2010 at 11:59 p.m. PDT.
Restrictions:
The winner of the Wahl must live in the U.S. or Canada.
The winner of the Fleshlight must live in the continental U.S. or Canada.
The winner of the Seti Toyfriend must live in the continental U.S.
The winner of the Fairy Mini Mini Wand must live in the U.S.
Fascinations only ships to the U.S. and Canada.
The winner of My Own Master must live in continental U.S.