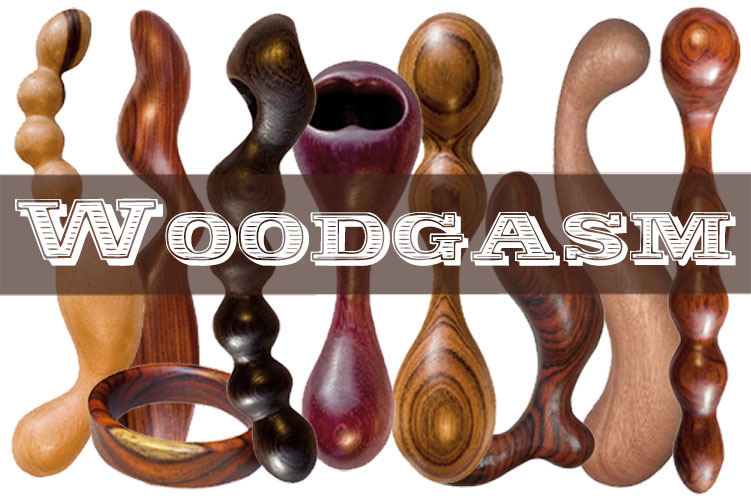 Wooden sex toy manufacturer NobEssence makes some of the most beautiful — and expensive — sex toys out there. And while most of their toys retail for upwards of $150, there is a magical place on the internet that has killer prices on NobEssence toys: SheVibe. I've long admired SheVibe for their freakish prices and cute site… and it turns out they're hells of generous, too!
When SheVibe offered to help me give away a toy, I decided it had to be something from NobEssence. I am in deep, deep love with the Seduction dildo and the Romp butt plug, and I believe everyone should own a wooden sex toy. I've already given away a Romp, but seriously, there is always room for another wooden sex toy giveaway.
Because I love you all, the winner of this giveaway will get to choose whichever NobEssence toy they want from SheVibe — butt plug, dildo, cock ring, kegel exerciser, whichever they most desire. And this giveaway is open to my international readers!* Beautiful, yes?
Twitter trivia parties!
The most exciting way to enter this giveaway will be to attend one or both of the two Twitter parties I'll be holding. YEAH, I'M GOING THERE. C'mon, it'll be fun! We'll use the hashtag #woodgasm, chat about sex toys, and each participant will earn an entry into the giveaway just for participating. I'll also be asking trivia questions, and party-goers who are quickest to correctly answer these questions will get extra entries.
Party #1: Saturday, June 12th, 2010, 3 p.m. — 4 p.m. PST. (what time for you?)
Party #2: Wednesday, June 16th, 2010, 6 p.m. — 7 p.m. PST. (what time for you?)
Be sure to follow me on Twitter beforehand! Also, in preparation for the trivia questions, here are some study materials:
Other ways to enter
Oh yes, there are always more…
5 entries: Write a blog post about this giveaway. Use my graphic, just host it yourself. Be sure to mention the Twitter parties!
3 entries: Comment on this post telling me which NobEssence piece you want the most and why.
3 entries: Subscribe to my RSS feed or subscribe via email.
Deadline: June 20th, 2010 at 11:59 p.m. PST.
* Fine print: This giveaway is open to everyone everywhere, but if you live outside the U.S., you will need to pay any customs taxes or tariffs levied by your country. Winner will be selected randomly from a list of entries.