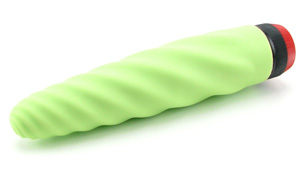 I'm a sucker for sex toys that come in any shade of green. They're difficult to come by. The Fun Factory Twister is a 100% silicone vibrator in a glorious shade of light green. I've had my eye on it for a long time, due to its color and swirled texture (it reminds me of ice cream that comes out of a machine at all-you-can-eat buffets; I love that shit). Being from Fun Factory's "Classic Vibes" line, the Twister isn't readily available these days, so I consider myself lucky to have it in my possession now.
But that doesn't mean it's a fabulous vibrator. Nor is it horrible. It's just mediocre.
The Twister is 8″ long, 7″ insertable, with a diameter of 1 1/2″ at its widest point (the base). About half of the shaft is flexible, while the bottom half houses the batteries and mechanical parts. It takes 2 AA batteries, but good luck figuring out how they go in — it took me years. The "Classic Vibes" line is about as retro as uber-hip Fun Factory will get, which makes even the dial base on this toy seem ancient. The dial feels very loose and is annoyingly easy to turn, which causes problems when trying to use the base as a handle. I can discern maybe three levels of vibration, but that depends on whether the dial base decides to work normally or not. Sometimes it pauses; sometimes it jumps to a much higher level of vibration; sometimes, when I try to turn it up, the vibration stops completely. It's very temperamental.
The highest vibration intensity is nothing to sneeze at, and it's pretty quiet, too. So if you can get there and stay there, it's nice. Unfortunately, the aesthetically pleasing swirls are not pleasing to my vagina; I can't feel them. If I didn't know better, I would think this was just a straight-shafted toy. And, if you know me, you know I love texture or a palpable shape, so the sensation of a straight shaft does not excite me. I did enjoy the gradually increasing girth of this toy, though, and it filled me up very well.
I now see why Fun Factory redesigned their battery bases. The finnicky dial base on the Twister is this toy's major downfall, followed by its unimpressive shape. Yes, this is a vibrator made of 100% silicone, but Fun Factory can do — and has done — better than this.