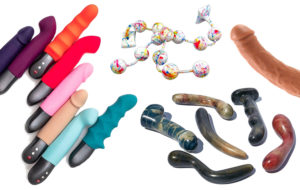 VIXEN MADE A NEW DILDO! Unfortunately, it's too effing big for my vagina! The Gambler (such a good name) is nearly 3″ in diameter — an epic challenge of girth. But Bex conquered it!
Vixen has also been quietly adding special edition versions of their toys to their site, including anal beads that look like jawbreakers, a galaxy-swirled Hitachi attachment, and colorful pop art inspired Mustangs. Very cute!
What a coincidence: around the same time I roasted Aneros' Evi for being a useless blob, they've announced a vibrating version. Insert pondering emoji.
Crystal dildo maker Chakrubs has expanded into wood. [. . . read the rest]