The tiniest tip ever to wiggle against my clit has morphed once again. It's called the Zumio E, and it's the third Zumio release, after the original Zumio X and follow-up Zumio S. Ooh, a word scramble! I know this one, I know this one!
The Zumio redefined pinpoint stimulation as we knew it, funneling every ounce of its power into a beaded tip the size of a decorative sprinkle. When you're forced to land something in the exact right locale, you do so. Don't know if your clit's a righty or lefty? This vibrator will teach you, in seconds. It stimulates masterfully, sending pleasure far beyond the tiny dot of flesh it touches. Orgasms are sudden, shaking, inescapable. I never had a "not for the faint of clit" tag on my blog before now, and I'm not sure why, because the Zumio is a perfect example.
The Zumio X's effectiveness is a bit of a mystery to me, honestly . . . It feels, almost, like my clit is vibrating of its own accord, like no toy's involved at all. It's really low-profile, taking up basically no vulvar real estate — particularly appreciated when I'm stuffing myself with large or unwieldy insertables. Very very little vibration is transferred to my hand in use, which is impressive considering how powerful this thing gets.

My review of the original Zumio X
Shockingly, the Zumio E is not named after me. No, the E stands for "elliptical," as in "elliptical rotation," supposedly setting it apart from the other Zumios and their (boring?) circular rotation. *whispers* those shapes aren't that different, guys. Looking like some kinda gothic squiggle pen, the Zumio E may be the sleekest of the Zumios, though they all have pretty utilitarian energy. The Zumio E has essentially the same tip (SpiroTip™, if you ask the company) as the original, but flattened slightly.
No, the differences are not big. They never are. A new Zumio is like a new Taco Bell item: familiar. It hits the spot without deviating in any considerable way from past efforts. As long as there's beef, nacho cheese, and some sort of crunchy element, I'm sold.
Still, I'm frustrated by Zumio's inability to accurately describe their product — calling its stem "flexible" (it's not), deeming its motor "whisper quiet" (dude, stop), acting like the toy is psychic and "adjusts the intensity based on the pressure you apply" (any vibrator feels deeper if you grind it into your clit, which I very much do not enjoy doing with this pointy mofo, ouch). Also, for the eleventy millionteenth time, it doesn't feel like a finger. It is a plastic whirring machine.
As one of those rare people who still care about the laws of language, I feel compelled to point this stuff out. How we describe things matters, because wide-eyed customers get caught up in it. I know everything's about money money money, but man, sometimes I feel starved for some honesty. Zumio could take a hint from whoever named "The Best or at Least the Biggest Back Scratcher on the Planet." Gotta respect a choice like that.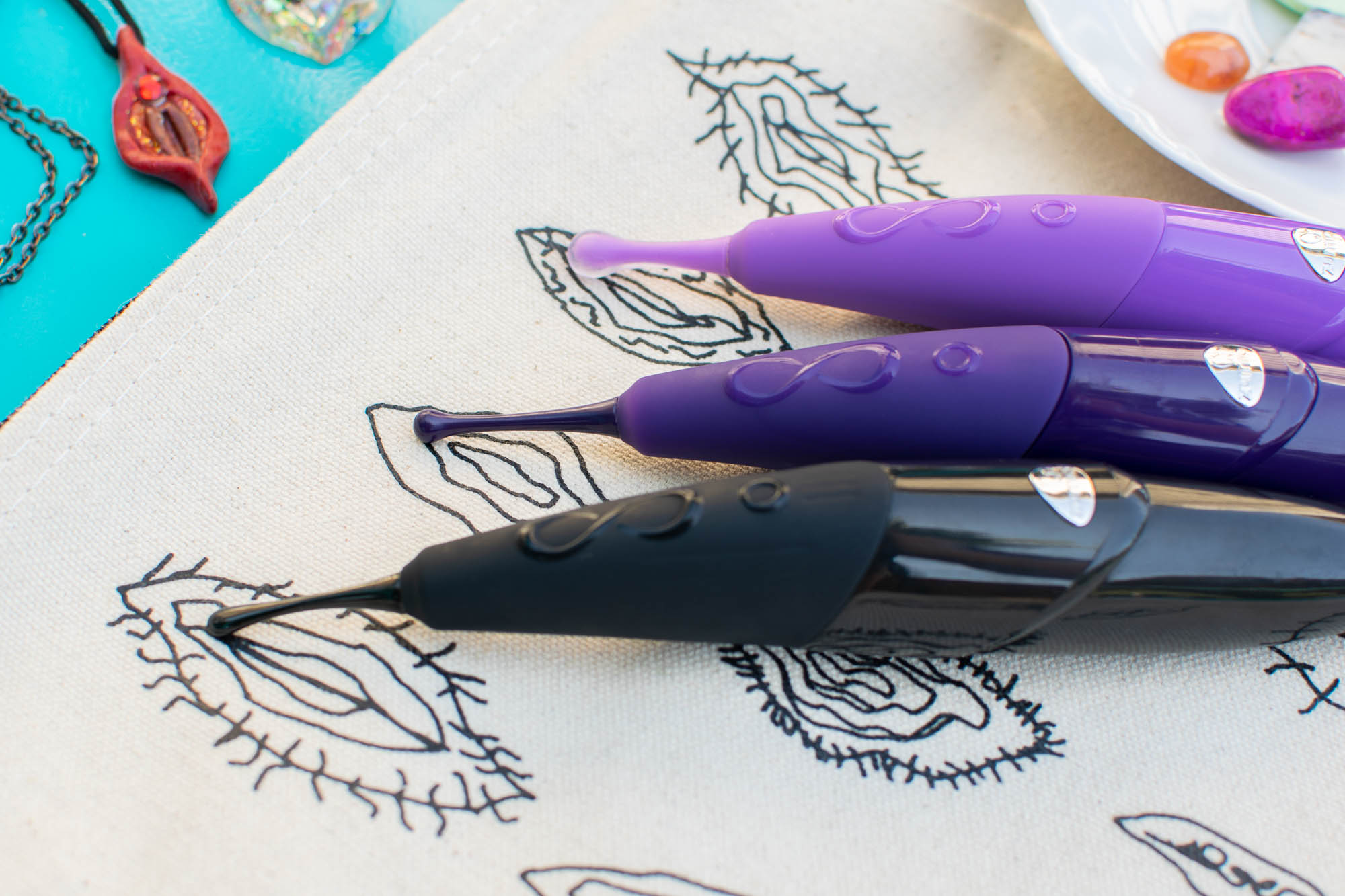 At $98, the Zumio costs a tad more than a beefy fritos burrito (RIP), so it's important to recount the variations between the models. Personally, I don't feel anyone needs to own more than one, and my unequivocal favorite is the Zumio X (also known as Zumio Xena). Its tip wiggles the most, which I find particularly satisfying. There's an immediacy and depth to the stimulation that seals the deal. However, it rattles more noisily than the others.
The Zumio E (also known as Zumio Ethel) is zippy and powerful, but with less movement and less resonance. While the tip of the Zumio X feels like it's ricocheting against my clit in the best way, the Zumio E feels comparatively stagnant. Its blunt, even more microscopic tip is a nuisance rather than an enhancement: I end up accidentally poking myself with it in use.
The Zumio S (also known as Zumio Sadie) is the quietest, and its slightly larger tip feels the most comfortable against my clit. Its vibration is buzzier and faster, muffled a bit by an extra layer of plastic. The vibration quality is not as deep as I'd like, but I appreciate its gentleness relative to the jabbing edge of the Zumio E. That matters a lot in certain situations.
Enter the Labia Trick™.
The Labia Trick™ is the patented stimulation technique I developed while reviewing the original Zumio X:
One day I absent-mindedly pressed the toy's tip against my outer labia, near my clit, and it was… kind of amazing? The fleshy buffer sent the vibrations reverberating throughout my vulva, a ripple effect of more expansive pleasure that still shook my clit enough to bring me to orgasm. This is a rarity indeed, as I almost never stray from direct clitoral stimulation, but it's a technique I use regularly with the Zumio X and one that makes me feel nice and smug about stepping out of my clitoral comfort zone.
The Labia Trick™ is like accessing my clit from behind a cushy barrier — a good way of dispersing the vibration, and a welcome contrast from the intensity of direct clitoral contact. It feels wonderful for the rumbly vibrations to dance around my clit, not right upon it.
The Labia Trick™ can be done with other vibrators, too, but with the Zumio it's a massive difference in sensation. Other toys, even relatively pinpoint ones like the Dame Kip and We-Vibe Tango X, send vibrations through the vulva no matter what. The Zumio doesn't — it's so teeny tiny it focuses on the clit and clit alone. Until, of course, you deploy the Labia Trick™.
Yes, you have to pay me royalties every time you masturbate using this technique.
The Zumios all have one thing in common: they are seriously orgasm-inducing. Testing these, comparing them, was an absolute delight — but also a reviewing nightmare because they make me come so quickly and intensely. I'm talking moans that devolve into giddy chuckling. I learned long ago how to withstand multiple orgasms during the course of a masturbation session, and that skill has carried me far. I'd still like to rewrite Zumio's marketing copy, but the pleasure their toys evoke makes me forget about advertising clichés and hyperbolic promises. It's powerful shit.
Get the Zumio of your choice at SheVibe or direct from Zumio.
---
Win the Zumio of your choice!
The rad folks at Zumio want one of you to have the ZUMIO EXPERIENCE, so we're giving away a Zumio to one lucky winner! The best part: this giveaway is open internationally! 18+ of course. You can gain entries the following ways:
Feel free to enter on whichever platforms you wish, or all of them to increase your chances. This giveaway ends in a week, so go enter now!
Winner will be chosen randomly on Thursday, August 6th and contacted via social media DM or comment reply. They will have 48 hours to respond.