In the market for a new sex toy, porno, sex blog hosting, etc.? Here are the places I recommend! (And here are the places you should avoid like the plague.)

Note: Clear your cache and enable cookies before clicking to ensure I get commissions. Thanks!
Jump to:

Looking for an incredible deal? SheVibe is the place for you! I love them in unnatural ways and they carry a ton of good stuff, including more obscure sex toy brands — such as BS Atelier, Funkit Toys, Crowned Jewels, Hole Punch, Lumberjill, Leaf, and New York Toy Collective — that can be hard to find in other shops. Visit my landing page for all my favorite toys in one place, and see their latest sales here.
SheVibe also has a really quite awesome manufacturer info page with warranty information for each toy company. PLUS I'm friends with the peeps behind SheVibe and they're all badasses.

Early to Bed is an adorable indie sex shop in Chicago run by one of the sweetest (and most hilarious) people I've met in the industry. They go the extra mile with their webstore, taking their own product photos and writing their own pros/cons for each toy. Here are my favorite things that they carry.
Get 10% off your order at Early to Bed with code EPIPHORA.

Shopping in Canada? Look no further than Come As You Are, one of Canada's best indie sex shops with a fantastic online store for you to take advantage of! They have probably the biggest selection of Fuze toys around, along with handmade and unique products such as Lovecrafters silicone toys, Cannalife Botanicals, Sili Saddle, and Canadian-made toys, dilators, and kinky stuff. My favorite things are listed right here, and here's their sale section.

Shopping overseas? I whole-heartedly recommend Lovehoney, which began in the UK but has expanded into the U.S., Canada, EU, Australia, New Zealand, Germany, and France. They are fast, discreet, and well-respected, with a great return policy.
Check out their latest deals and get 15% off your order by visiting my landing page (which lists all my favorite products!).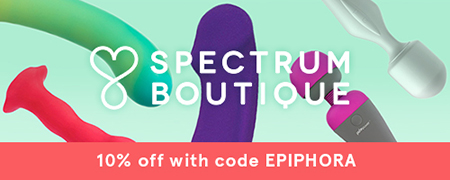 Spectrum Boutique is a hip, modern Detroit-based online sex shop dedicated to body-safe toys and radical inclusion. With a curated selection of products (they stock many of my favorite things!) and a refreshing lack of gendered language, their site is a haven of sex-positivity.
Get 10% off your order at Spectrum Boutique with code EPIPHORA.


GoodVibes is a well-known, fantastic shop. Check out my favorite toys that they carry, and here's what's currently on sale.

Do you love progressive, indie sex shops? Then you absolutely must support Minneapolis-based Smitten Kitten, whose owner was one of the first to speak out against toxic toys. Get 20% off your order with code HEYEPIPHORA and see my toy picks right here. Free shipping on orders $75+!
The selection at Smitten Kitten is incredible for a small shop, including unique products such as acrylic dildos, pronoun buttons, vaginal pain relief products, and small manufacturers such as Hole Punch Toys and Fuze.
Feminist to the core, Smitten Kitten's fierce commitment to accessibility is evidenced by their gender expression section, range of inexpensive toys, and selection of products for all bodies and abilities.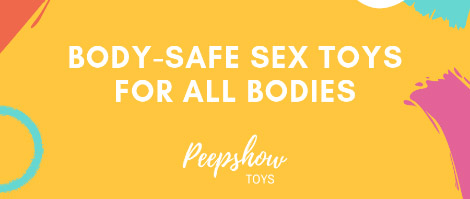 One of my newer affiliates is Peepshow Toys. I'm really into their excellent sales and curated selection; they stock a lot of my favorite things including the limited edition Splendid Piph, my two favorite Hitachi attachments, the LELO Ella, Leaf Life, and the NobEssence Seduction and Romp.
Get 10% off your order at Peepshow Toys with code EPIPHORA.

That tagline is no joke: the selection at SexToyFun (now known as Adult Shopping) is astonishing. This site carries practically everything, from very inexpensive silver bullets to high-end luxury toys. It's a good place to go if you're looking for a toy made by one of the big companies: California Exotic, Doc Johnson, Pipedream, Topco, etc.

I'd rather you buy from an indie sex shop, but I know Amazon's prices are hard to resist, and sometimes you just need a Diva Cup (why?) or lube dispenser (why?), so if you must, there's Amazon's "Sexual Wellness" section. Just remember, companies may not honor warranties on toys bought from Amazon.
I also endorse the following shops: Pleasure Chest, She Bop, Stockroom, and Betty's Toy Box.
Straight from the manufacturer:

We-Vibe is a smart company that makes effective vibrators such as the ergonomic rabbit Nova (my thoughts), versatile G-spottin' Rave (my review), tiny but mighty Tango (my review), all-around great Touch (my review), and hands-free orgasm-inducing Pleasure Mates (my review).
Get 5% off your order on their website anytime with code EPIPHORA.

Tantus, makers of lovely 100% silicone dildos and plugs, has an AMAZING closeout section. Also check the Grab Bag, where you can get highly-discounted toys in surprise (and unique!) colors. My favorite Tantus toys are the Cush O2 (my review), Echo (my review), and Ryder (my review). See more here! They even stock the Magic Wand Rechargeable and Doxy.

Crystal Delights makes gorgeous glass toys with Swarovski crystals in their bases. My favorite toys of theirs are the Crystal Twist (my review) and Star Delight (my review), but they also make beautiful butt plugs, some with fluffy animal tails, others with fantastically-colored tails. By shopping directly with them, you can customize your toy to your heart's content and earn loyalty points toward future purchases.
Bonus: get $15 off the beautimous Epiphora's Exclusive Star Delight or Epiphora's Exclusive Twist with glacier blue aqua Swarovski crystal (a color not currently used in any Crystal Delights toys) with code EECD.

Luxury sex toy brand LELO makes some fantastic toys and you can get 15% off your order with code EPIPHORA15. My favorites: Mona 2 (my gushing review), Siri 2 (my review), Mia 2 (my review), Ella (my review), battery-operated winners Ako and Moka, and the best kegel balls, the Luna Beads (my review). All my faves are compiled here!

Playful German company Fun Factory has been making high-quality silicone vibrators, dildos, anal toys, kegel balls, and more since 1996 — their coolest innovation being their pulsators, which thrust rather than vibrate (I loooove the Stronic G and Surf, as evidenced in my reviews of 'em), and the highly versatile Volta (the best clitoral toy they make, in my opinion).
Fun Factory's Bootie is my all-time favorite silicone anal plug, I enjoy the odd sensations of the Bouncer and B Ball Uno, and the Tiger G5 and Big Boss G5 are impressively powerful vibrators for your money. They also make menstrual cups, which I reviewed here.
Get a free Karim Raschid Toybag ($25 value) with any purchase over $29.99 at Fun Factory with code EPIPHORA! Just be sure to add the toybag to your cart first.

New York Toy Collective are the premiere makers of bendable silicone dildos and packers! They are known for the pack-and-play Shilo (although I'm a bigger fan of the squirt-enducing larger one, Carter), and high-quality packers like Archer and the uncut (!) Pierre. Their site includes the widest selection of color choices, a whoops section with discounted items, and they even sell my favorite harness.

Lovense is known for making bluetooth remote-controlled long-distance toys such as the Lush, Hush, Nora, and Max. Cam performers in particular love their toys, as they're all tip-responsive and programmable.

Liberator makes what they call "bedroom adventure gear." In layman's terms, SEX FURNITURE. Their positioning pillows are amazing for propping up during sex; my favorite is the classic Wedge. They also make the lifesaving Fascinator Throe, a waterproof blanket. Squirters rejoice!

Twisted Monk is the most trusted name in bondage rope. They make classic hemp rope, as well as exotic ropes such as bamboo, silk, cotton, SPARKLE, and electro-conductive. Their site is a wonderland of rope kits, accessories, and educational materials. I love their Curiosity Candles for wax play, too.
Get free U.S. shipping with code HEYEPIPHORA, and be sure to check out their ever-changing limited edition Color of the Month rope!
Need a dildo shaped like a unicorn horn? Split Peaches has you covered! This little USA-based operation makes platinum cure silicone toys in an array of shapes, textures, and colors. Get 15% off your order with code EPIPHORA.

Sliquid is my favorite lube BY FAR. Get 10% off your order in their shop with code EPIPHORA.

My boyfriend is IN LOVE with his Fleshlight. It's the world's most well-known penis sleeve for a reason: solid quality, luscious material, wide variety of internal textures. Build the exact one you want on Fleshlight's site!

Might I interest you in a fruit- or vegetable-shaped sex toy? That's the domain of German company SelfDelve. They make 100% silicone dildos shaped like corn, bananas, pickles, carrots, cucumbers, eggplants, and asparagus, and more. Some of their toys even use thermochromic pigments, so they change color with temperature. See this in action on a banana dildo here.
Use code EPIPHORA for 5% off your order at SelfDelve.

This little operation in Saint Paul, Minnesota, makes hand-poured silicone sex toys in fantastical shapes, such as carrot and radish butt plugs, popsicle dildos, ice cream anal toys, rocket ship strap-ons, and even a dildo shaped like a wine bottle. I reviewed their stuff here, crowning the Ass Cram Cone my favorite (for vag cramming).
Get free U.S. shipping at Hole Punch Toys with code EPIPHORA.
LuzArte is the manufacturer of amazing Jollies toys like the Jollet. Use code EPIPHORA at check-out to get 15% off your entire order from their store, which offers dildos with custom items embedded in them (!!!) as well as bath products and silicone cannabis accessories.

Minna makes Ola and Limon, squeezable vibrators that record the pattern you squeeze. You can get free organic lube with your purchase at Minna with code EPIPHORA.
Sex blog web hosting + resources

If you're looking to start up a sex blog (or any type of blog or website), I highly recommend DreamHost (they're my host) for your hosting needs. They're cool with adult content, have great support, plus they offer free Who.is privacy protection with any domain! I use their robust DreamPress service, which also includes automatic daily back-ups and a faster server.
Need help installing WordPress or navigating your new site? Contact me, I'm happy to help!

HostGator is a good budget option for hosting. They allow adult content and you can always get 25% off with coupon code HEYEPIPHORA.
Full disclosure: I get a little kickback if you purchase hosting from my links.

GoDaddy is another choice for sex bloggers, also quite cheap.

And ThemeForest is an awesome source of quality Blogger, Tumblr, and WordPress themes!
Looking for porn?

This is my primary VOD (video-on-demand/streaming) porn theater from the same place that runs HotMovies4Her. You can find practically anything on it, and best of all, you can watch only the scenes you really want! I keep a running list of my favorites on this page. I also have a store on GameLink if you prefer.

PinkLabel.tv features the best queer porn all under one roof! It's like the Netflix of queer porn. Pay-as-you-go with rentals, or get a membership with PinkLabel PLUS for unlimited access. Browse indie porn from all different studios, such as T-Wood (trans and queer men), Trouble Films (queer everything!), Bonus Hole Boys (trans men with cis guys), Heavenly Spire (masculine beauty), Blue Artichoke Films (cis hetero couples), Handbasket Productions (trans women and queer folks), and of course Pink & White (queer everything!).

Erika Lust's membership site Lust Cinema has all her films, as well as videos from awesome feminist directors such as Jacky St. James, Michelle Flynn, Joybear, and Jennifer Lyon Bell. Or check out her popular site XConfessions, where she shoots films based on anonymous fantasies.
Don't want to get a membership? Consider EroticFilms, which has similar selection but offers rentals of individual scenes/movies instead.

Looking for hot, well-shot gay porn? I love CockyBoys. Gorgeous humans (look up Jacen Zhu, he's incredible!), pristine lighting, excellent chemistry… it's all there. This site offers individual scenes, mini series episodes, live cams, and even full-length features (such as the award-winning A Thing of Beauty and spooky The Haunting).

SugarInstant is basically the Netflix of (mainstream-leaning) porn. It rules! Read about my experience with it.

Hot alt girls make Burning Angel one of the few membership networks still worth joining. Membership grants you access to over 900 movies for download (or HD streaming!), and almost 300 girls to interact with.

The groundbreaking queer porn series The Crash Pad was the inspiration for CrashPadSeries.com, which delivers steamy new episodes every two weeks, including access to over 250 previous episodes and thousands of photos.

Since 2002, Indie Porn Revolution (previously NoFauxxx) has been the place for authentic, diverse, and hot queer porn. They've recently expanded with the addition of other sites: Real Queer Porn, Queer Porn TV, Fat Girl Fantasies, and FTM Fucker.

I cannot tell you how much I adore Ciné Sinclaire! This is the life's work of one of my good friends, Kate, who is following her vision for inclusive, respectful, and hot porn. It's on a pay-what-you-can structure for maximum accessibility.

Ms. Naughty has been on the forefront of the feminist porn movement for over a decade, and Bright Desire is the online home for all of her erotic films. It features scenes of real life couples and intimate solo scenes, plus access to photos, interviews with performers, erotic fiction, and more.

BDSM porn behemoth Kink.com has tons of sites for your every need, such as Sex and Submission, The Upper Floor, Everything Butt, Fucking Machines, Public Disgrace, and Bound Gang Bangs, or get access to all of Kink's currently updating sites with a Kink Unlimited plan.