I HATE WRITING POSTS LIKE THIS, but you guys deserve to know before it's too late.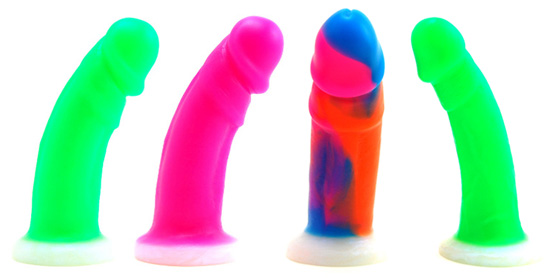 These beauties from Vixen Creations are going away. All neon Mavericks, including the tie dye one, are being discontinued, as is the neon green Mustang. I guess we can't have nice things. That appears to be the only explanation. (I'm sure Vixen would tell you that these weren't selling well enough, but I won't listen to reason.)
Prior to these hitting the scene, most of Vixen's dual-density VixSkin dildos were made only in skin tones. Raquel was, for a long time, the only exception — and it was pink. So these neon and tie dye additions were an exciting and welcome change. I know people who are adverse to skin tones, and I was thrilled to be able to recommend glorious VixSkin in colors they found appealing.
If you're one of those people, you'd better snatch one of these up before the colors are gone for good. Maverick and Mustang are two of Vixen's top-selling shapes (and two of my faves), but remember — their specs are quite different. While the Mustang is a modest (yet, even for me, fulfilling) 6.5″ insertable by 1.5″ wide, Maverick is a beastly 7″ insertable by 2″ wide. Choose wisely, peeps.
As a consolation prize, you'll at least be able to say you own a dildo that is no longer in production. Can't tell me that's not cool.
Get the tie dye Mustang at SheVibe, She Bop, or Smitten Kitten.
Get the pink Mustang at SheVibe, Early to Bed, She Bop, or Smitten Kitten.