2020 is not the year we ordered. We've spent almost 7 months in quarantine, and now we're heading into a precarious election that may lead to the collapse of society as we know it. But despite the hellscape that is this year, some good traditions persist, and one of those is my annual sex toy giveaway. Of course, the usual whimsical themes wouldn't cut it this time around. This is not a time for carnivals. It's a time for survival.
So, I've assembled 10 sex toy survival kits to get you through this dystopian nightmare. Each kit is worth over $400 and stocked with 4-5 outstanding items: legendary vibrators, hand-poured dildos, perfect butt plugs, thrusting toys, porn, my favorite lube, and more. These highly-curated kits contain only toys I know and love, and most are available to my international readers!
Read all about the kits below, then enter to win — and don't forget to pack your bug-out bag for extra entries!
---
Kit #1: Greetings from the Anarchist Jurisdiction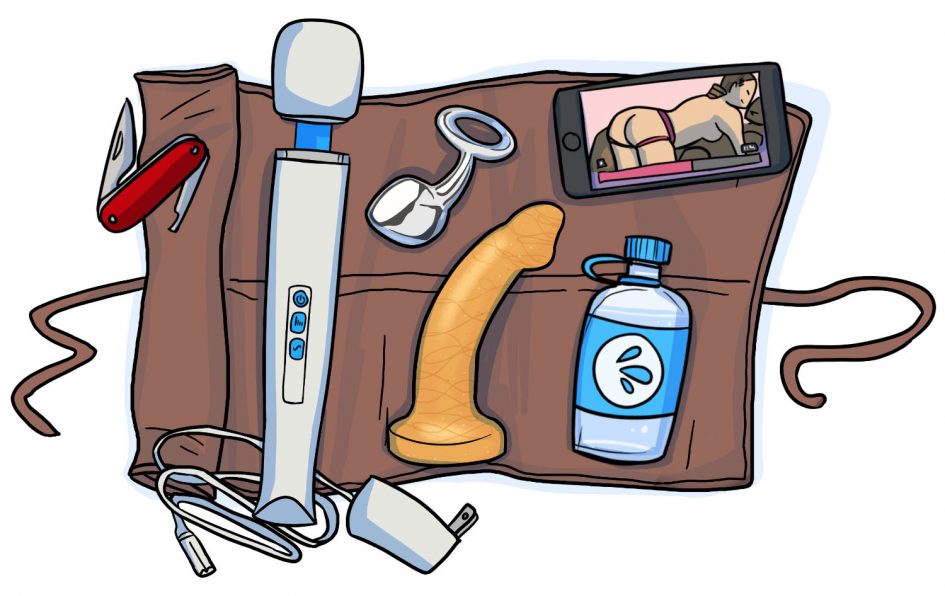 Where can I get a postcard to send my friends? Because I would like to brag about living in an "anarchist jurisdiction." This survival kit includes all the sex tools needed to unwind after a long day of protesting for very reasonable things: the greatest wand vibrator ever, a glorious butt plug, a handmade silicone dildo, a porn subscription, and LUBE!
---
Kit #2: I Hope This Email Finds You Well In These Unprecedented Times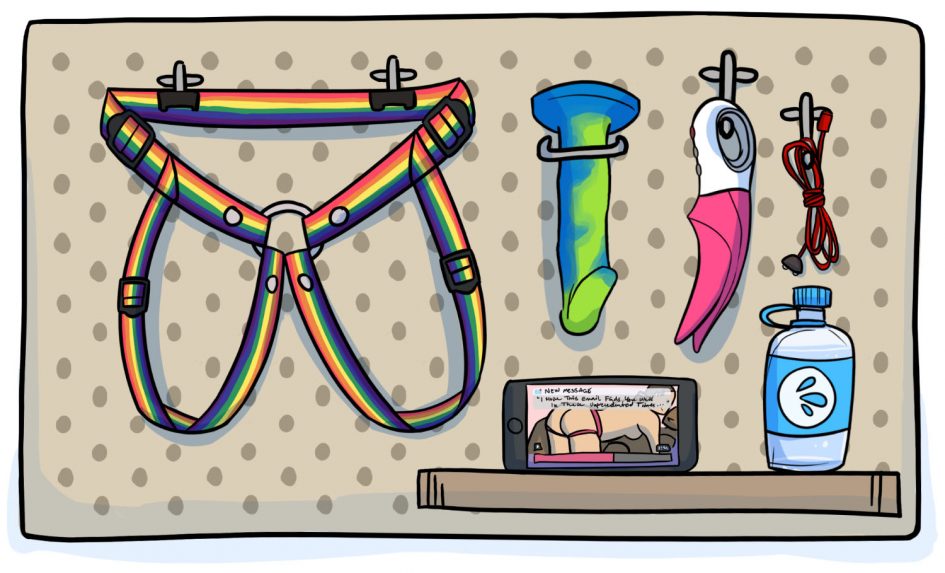 Your email does not find me well. How am I? That's a loaded question. I have been crying roughly every other day, eating terribly, destroying myself with self-doubt. But I get it. I don't know how to respectfully start my emails anymore either. We're all going through some shit.
Anyway, orgasms can help you forget about it all, if only momentarily. This survival kit comes with a super gay harness, your choice of a squishy dildo or packer, a flickering vibrator, a queer porn subscription, and a bottle of lube. Everything you need to deeply disturb Mike Pence.
---
Kit #3: Fuck the Police (But Not in That Way)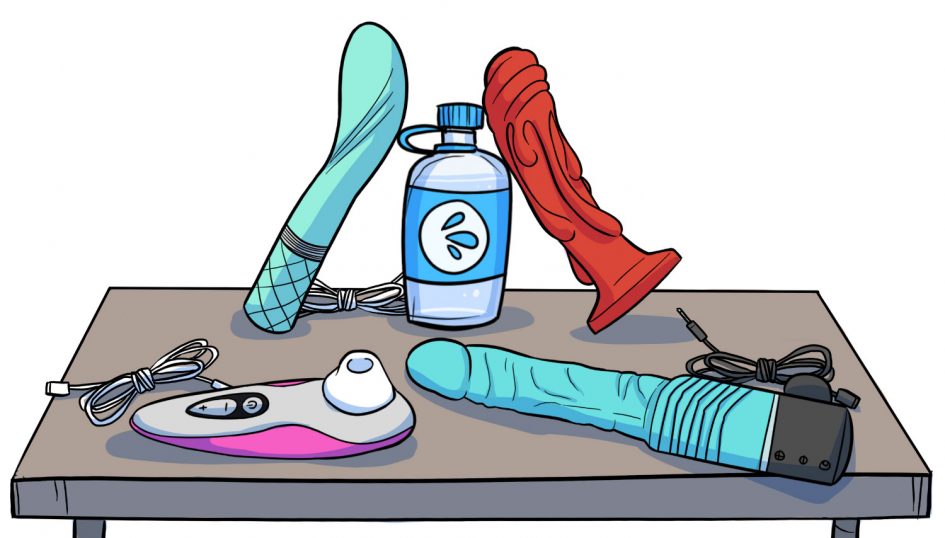 Cops are dicks. They keep proving it to us, and the deeply racist system allows their bullshit to continue. An apartment wall got more justice than Breonna Taylor. Tear gas is being deployed with wild abandon, poisoning citizens. Police sympathize with white supremacists. Our goddamn PRESIDENT is a white supremacist.
All of this is very exhausting, so these are sex toys to luxuriate in: a versatile vibrator, an air flow toy, a stimulating dildo, and a brand-spankin'-new thrusting toy. With a side of lube, of course.
---
Kit #4: Our Mask Policy is Clearly Stated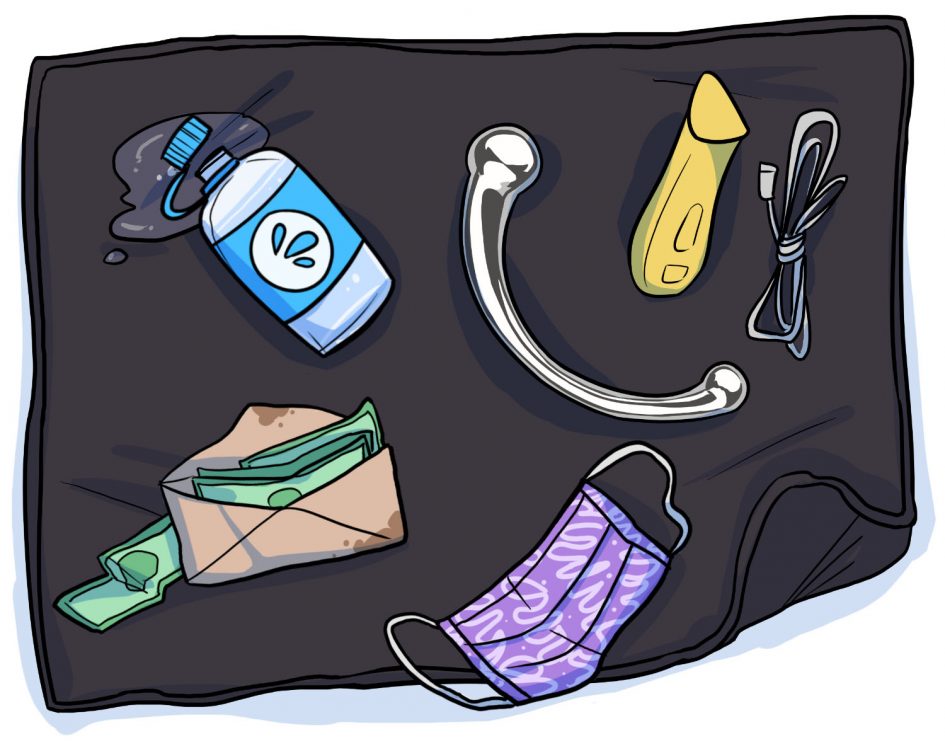 This kit is available to entrants in the contiguous U.S only.
2020 proved to us that literally anything can be politicized and conspiracy-theoried, including the act of wearing a face mask during a pandemic. R.I.P. common sense. I feel so bad for anyone who has to work with the public right now — I get depressed merely reading businesses' safety policies, because it's obvious some entitled asshole necessitated their specificity.
When you're back at home, and there aren't any customers to whine at you anymore (I hope…), you can relax. This survival kit includes a waterproof sex blanket, a G-spotting god of a dildo, and a satisfying bullet vibrator. Plus lube and a $100 gift certificate to complete the kit however you'd like.
---
Kit #5: All My Fun New Neuroses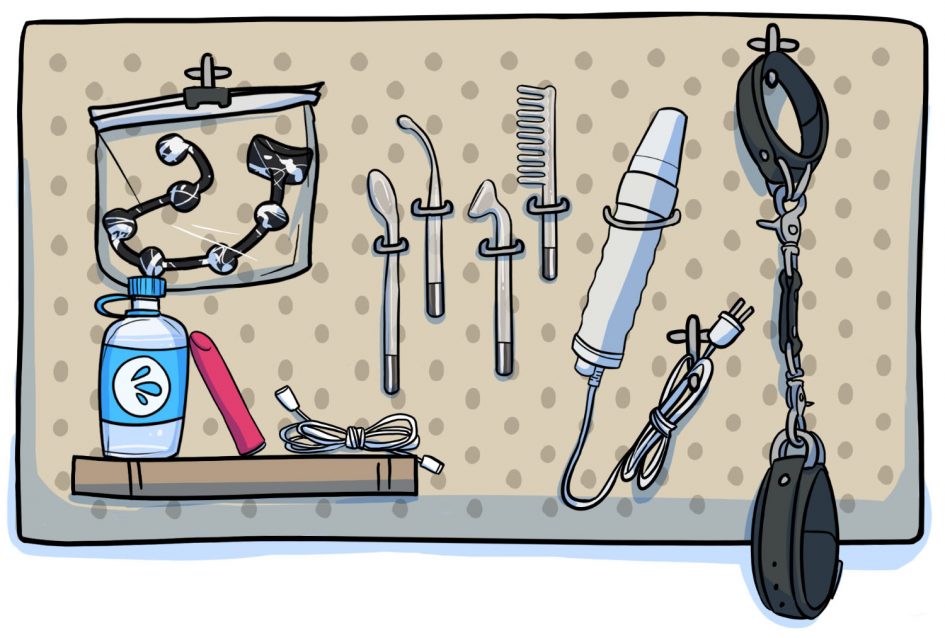 Going into a store gives me anxiety, especially when I see arrows on the ground. Any sign of illness leads me down a dark "what if" path. Forever traumatized by the 2016 election, I no longer trust anyone who tells me Trump is going to lose. I barely believe in pants, and bras feel like torture devices that have no business on this earth. (Like, even more so than in years past.)
We've all developed weird habits and anxieties this year, but sex can be a glorious escape. This survival kit is the kinkiest, equipped with glow-in-the-dark anal beads, a powerhouse vibrator, an electrostim wand, handcrafted leather cuffs, and lube.
---
Kit #6: Gather Necessary Items
This kit is available to entrants in the contiguous U.S only.
In September, Oregon suffered some of the most destructive wildfires in its history, burning over a million acres. 40,000 people evacuated from their homes, including a friend who stayed with me, bringing her 3 kids and 2 cats. (The cats were not pleased with the situation.) Now we're being told this could happen more and more often, and our president gives zero shits about climate change. Very encouraging!
This survival kit does not come with a cat, but it does include other necessities, such as a sex positioning pillow, glass dildo, pinpoint vibrator, lube, and a $100 gift certificate for whatever else you need.
---
Kit #7: Zoom Fatigue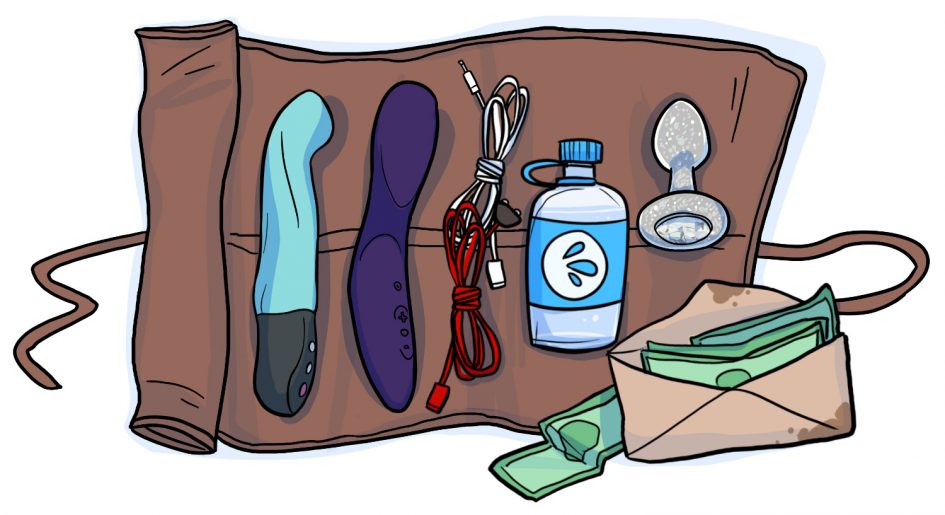 I am exhausted, somehow, and I haven't even left my house. I'm just so tired of looking at my own face. Video calls are making me more self-aware than is healthy, and now I reminisce about meetings of the past, when the state of my face never entered my mind. Is my lisp really that obvious? Did I wear this same outfit last time, and will they notice? Why do my lips look so dry?!
We are all incredibly drained, so here's a survival kit of sex toys for lazy masturbation: a self-thrusting toy, a G-spotting vibrator, lube, a sparkly butt plug, and a $100 credit to top it off.
---
Kit #8: Burn Down the Apple Store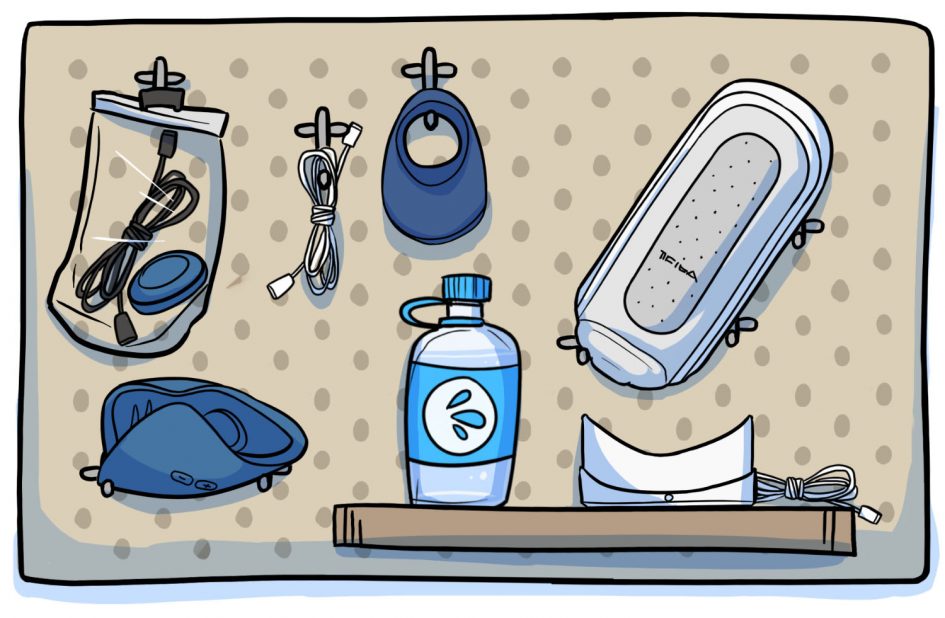 One of the most beautiful and heartbreaking things I saw this summer was the downtown Portland Apple store after people covered its wooden barrier with art and memorials. For a brief moment, capitalism was replaced by what actually matters: honoring the Black lives that have been lost.
This is officially the most depressing giveaway I've ever done, but… the world is depressing, and I'm not interested in making it more palatable. If you want to stick your dick in things, this survival kit is for you. It includes three tried-and-true vibrating penis toys, plus lube to wash it all down.
---
Kit #9: Bulk Wine Order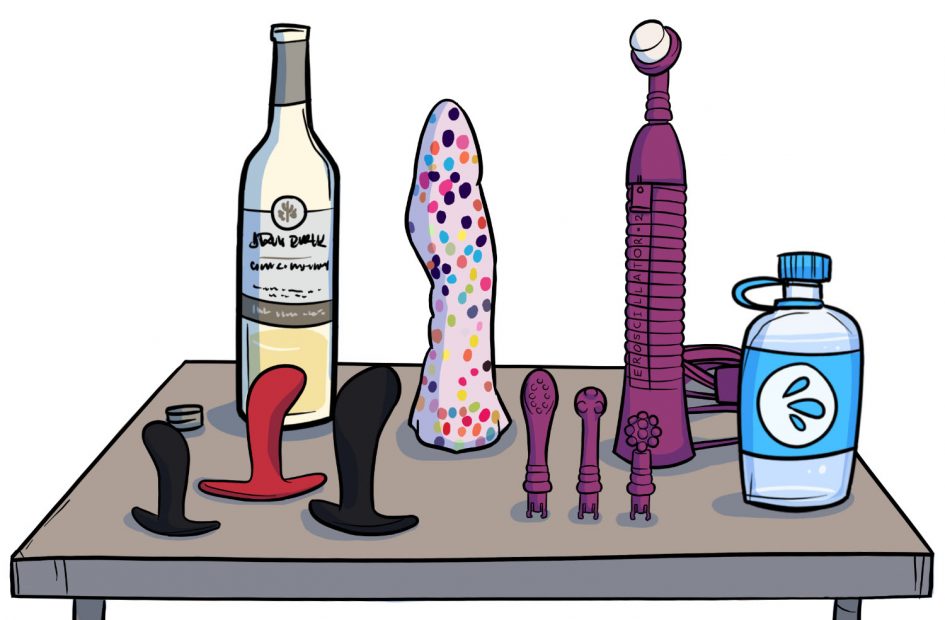 I never bought wine in bulk before this year, but desperate times call for desperate measures. There's another reality in which I spent October preparing for and embarking on the Melissa Etheridge Cruise. It would've been my first cruise, and my mom even bought me the gayest captain hat. 2020 obviously had other ideas, because this year is the worst.
This bespoke survival kit includes a three-piece butt plug set, a custom silicone dildo with anything you want inside it, an iconic oscillating vibe, and lube lube lube.
---
Kit #10: Stay Inside, the Air is Literally Poison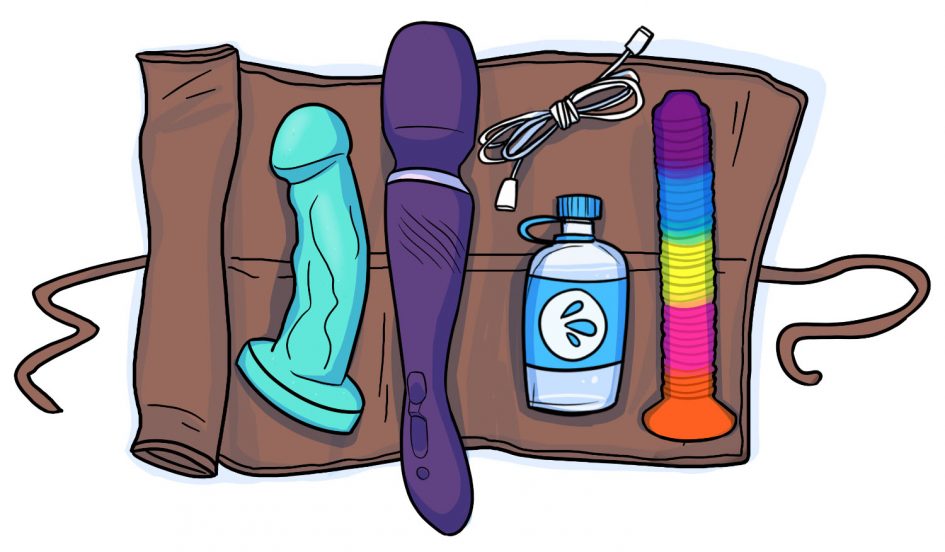 Quarantine was semi-bearable up until even the great outdoors became toxic. Last month, smoke from the wildfires in Oregon made the air so unhealthy it was like smoking 20 cigarettes. We retreated into our hermetically-sealed house while the sky turned orange. It's fine. All of this is fine.
Help the time pass with a customized masturbation experience. This survival kit includes two dildos of your choice, a fancy wand vibrator, and the best pal of all: lube.
---
Pack your BUG-OUT BAG for extra entries!
Want to increase your chances of winning? Search my blog for the necessary items to fill your bug-out bag — each item you find is worth 10 extra entries, more valuable than other entry techniques. Find the backpack and you'll get a whopping 20 extra entries!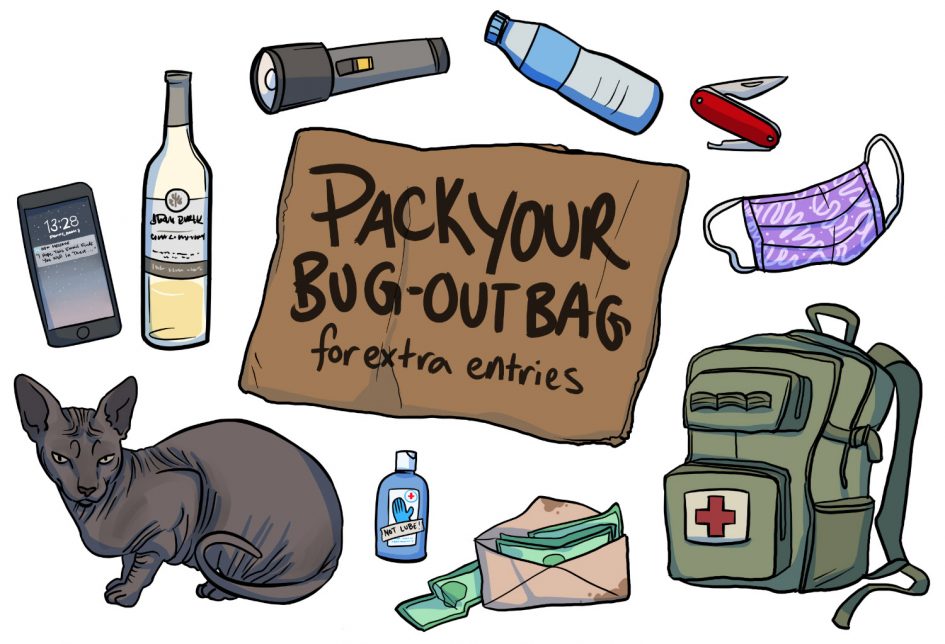 Each item will be an image embedded within a blog post on this site, and the image will include a code for you to enter in the widget. I'll give you the first two hints below. Additional hints will be revealed on my social media accounts (Twitter, Facebook, and Instagram Stories) throughout the giveaway.
PHONE — "Inexplicable Angry Dolphin Noise Echoes Through Neighborhood; Source Unknown"
MASK — "Creepy Guy Gives Questionable Sex Advice to Young People"
MONEY — "Report Finds Usage of Spot Removal Tool Up 5000% After Invention of Silicone Dildo"
BORIS — "Company Threatens to Take Blogger to Court Over Unsavory Nickname"
BACKPACK (+20 entries!) — "Woman's G-spot Shaken, But Intact After Overzealous Vibration"
WINE — "Costly Object Deemed Unsightly, Unpleasant in Peer-Reviewed Analysis"
POCKET KNIFE — "The Time For Labial Revitalization is Now, Company Asserts"
HAND SANITIZER — "Grinning Creature Strangely Content with Snuggling Up to Assholes"
FLASHLIGHT — "Data Shows Rise in Lackadaisical Masturbatory Tendencies"
WATER BOTTLE — "Modern Floozy Desecrates Foremother's Earthly Possessions"
---
Enter to win now!
Choose the two survival kits you want most (carefully — you can't change your picks after you've entered), then enter using the widget below or on the giveaway landing page.
Sex toy survival kits for the apocalypse
Read before entering:
Take note of the specific account you used to sign in, as you will need it again. (
Here's how to recover your account
.) To ensure your entries are counted, disable ad-blockers before entering. Some entry techniques require Gleam authentication; this makes easier for me to verify entries. Problems? Email
[email protected]
.
This giveaway ends Friday, October 30th at 11:59 pm PDT.
MASSIVE THANKS to all the amazing companies who donated: Activest Teacher, Crystal Delights, Dame, Early to Bed, Fun Factory, Hot Octopuss, LuzArte, New York Toy Collective, njoy, Peepshow Toys, Pink & White, Portland Toy Company, Riverqueer Leatherwork, SelfDelve, She Bop, SheVibe, Sliquid, Smitten Kitten, Stockroom, Tantus, Tenga, Uberrime, Velvet Thruster, Vibratex, We-Vibe, Womanizer, and Zumio.