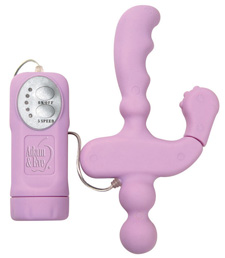 A somewhat bored-looking, lingerie-clad woman stares back at me from her position atop Her Perfect Fit. Three cute icons at the bottom of the package explain that the toy is multi-speed, waterproof, and silky smooth. A picture of the clitoral nub boasts "FLEXI-TOUCH," with arrows pointing both directions to signify movement.
I have been wooed previously by the prospects of other vibes that feature both vaginal and clitoral stimulation, but they have always fallen short in one way or another. Usually, the clit stimulator is the culprit. But the clit stimulator on Her Perfect Fit, it seemed, could be adjusted to my preference. That's what Flexi-Touch means, right? Her Perfect Fit also comes with an agreeable price tag, so my interest was piqued.
I'm sad to say, Her Perfect Fit doesn't follow through on its most enticing promise. Sure, the toy is definitely made of a velvety plastic (my favorite kind of plastic). Sure, it's waterproof and has five speeds. But that clitoral stimulator? Its flexibility left much to be desired. Turns out, it would only flex upward, and even then, it didn't click into place.
And my clit is not up. It's down.
I have to say, I'm getting a little tired of toys getting my anatomy wrong! It doesn't help, of course, that this toy is called Her Perfect Fit. But I know, the clit isn't all that's at stake here. So here's what I have to say about the shaft: it definitely isn't made for deep or rapid thrusting. The wavy shape is too pronounced, and that kind of thrusting is just uncomfortable (note, however, that I am still getting used to penetration). But slight movement feels great, and I was pleased to find that the toy stayed in place inside me when I fully inserted it. I was enjoying the vibrator, except for that pesky clit stimulator.
So I did something drastic: I broke the clit stimulator off. That nub wasn't accomplishing anything when I used the vibrator; it was just getting in the way. The way that it broke off (just the plastic, nothing electrical) actually allowed me to haphazardly put it back in its slot and kind-of sort-of point it downward, onto my clit. But, being broken, it kept falling out. It didn't matter; I just wanted to be able to access my clit with another toy.
I whipped out my trusty Xtreme Pack G-spot Bullet and used it in conjunction with Her Perfect Fit. I really liked the handle on Her Perfect Fit, and the fact that I could control the vibrations with my other hand instead of fumbling with a wheel or buttons on the vibrator itself. The range of vibration speeds was decent, but nothing to write home about. The vibrator isn't the most powerful, but it is fairly quiet. Her Perfect Fit is, in a word, mediocre.
The good news is, I'm getting to the point where I can just look at a clitoral stimulator and know if it will reach my clit.