Content note
: this post contains mentions of James Deen. I no longer support
him or his work
.
May 17th, 2013
The boyfriend went to the convenience store for beer, and Survivor was downloading at a snails' pace, so I whipped out my Mona 2 and had the quickest orgasm before he returned. Incredibly, the toy died literal seconds after my orgasm wore off. Fate?
Summer 2013
Can I just take a moment to tell you about porn I've seen recently that was glorious and/or weird? Because holy shit, Belladonna Sexual Explorer. I've realized that I always love watching Sinn Sage. She was great in Strapped Dykes, she was great in No Warning 7, she was great in Sinn Sage Loves Girls, she's great in this, and every time I see her, she is a beast.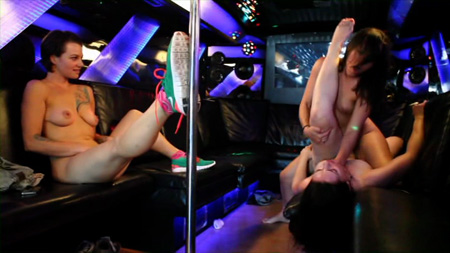 Of course, I made the mistake of clicking on her Amazon wishlist only to be assaulted by a four-pack of 18″ purple jelly dongs. A FOUR-PACK. OF PURPLE JELLY DONGS. (Thankfully, it's gone now and replaced with healthy cookbooks and face scrubbers.)
Also, because Belladonna is a boss, Dark Meat 5 with Dana DeArmond and Nat Turnher. Goddamn, this lighting just slaaaays me.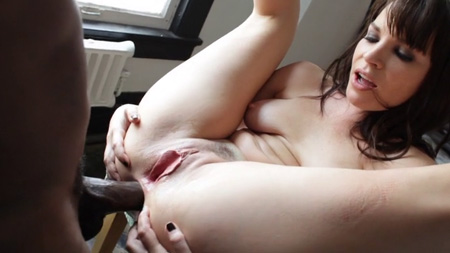 Moral of the story: stick with Belladonna and you'll be fine. Sometimes you might be tempted to watch something else, maybe Kayden Exposed for instance, at which point you'll be greeted with Evan Stone rubbing a strawberry all over Tori Black's vulva, and some camera guy in the "Behind the Scenes" petting a cat…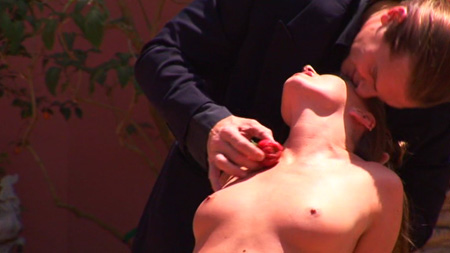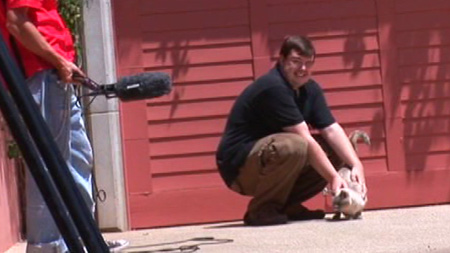 …but then there's Belladonna's Foot Soldiers 3. With Katie St. Ives standing on James Deen. LITERALLY. And it's hard to argue that one should watch anything made by not Belladonna. (Except that one movie…)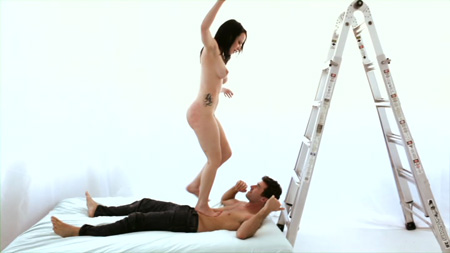 Sometime in this mess, I dug out some old toys to see how I felt about them present day. My verdicts:
October 1st, 2013
After 6 days orgasmless at Catalyst, I returned home and indulged in a long, deliciously tortuous jack-off session in bed (for once). The porn of choice was Trans Grrrls, particularly this scene which just killed me with hotness: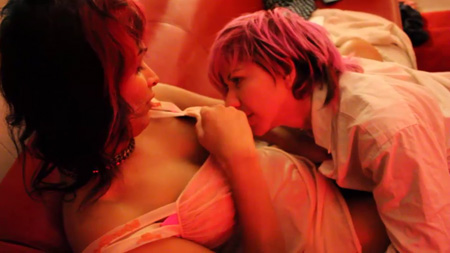 I used my new, updated Crave Duet and totally built it up like I normally don't. Ahhhhh.
November 27th, 2013
It was the night before Thanksgiving and I had to get to sleep, so I dragged my Mystic Wand into bed and laid on my stomach lazily humping it. A strange and different sensation — it reminded me of dry humping when I was 14 — followed by an odd but wonderful orgasm.
December 22nd, 2013
Much testing of the We-Vibe Tango needed to occur, so I corralled all the components needed. I charged it. I cornstarched the Tantus Little Secrets. I dug out the Echo. I queued up Squatter.
Orgasm number one came quickly — rocking the Echo against my G-spot with the Tango on my clit. Then I tried the Tango with the Little Secret sleeves, which was pretty rad. My boyfriend walked into the room and, dildo still hanging out of my vagina, I started talking to him. "Nice meat curtain," he said. This is the point we have reached in our relationship.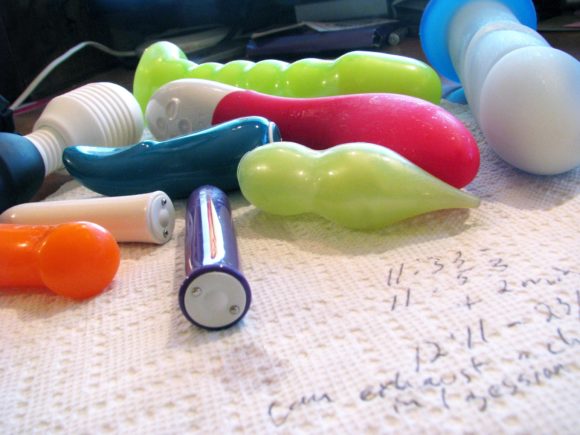 More toys were used and more notes were taken on a paper towel, until the Tango started petering out and then died. I took this photo to brag about the glorious color variety in my sex toy collection. And to brag about my vag gunk.
December 27th, 2013
For one magical night, I was Howard Stern. Yeah, bitch, I broke in my Sybian properly, turning the dial while each of my friends rode — and yelled things like "I haaaaaaaate it."
January 17th, 2014
SHOUT OUT TO THE DIVA CUP, which is so comfortable I almost forgot to take it out before masturbating. I can't believe it took me 27 goddamn years to get one.
My tools of the night were the Comet II, Ceramix No. 4, and Whipspider Ghost (acquired in a tizzy while the company went out of business). My porn choice was Hairy Movie, because it was on my hard drive and I happened to mouse over it.
Just as I was yanking on my G-spot with the Comet II, I got an instant message from that made me feel like a boss.
When all was said and done, I was disappointed that there were only a few globs of blood in the Ghost's eye sockets. (There's a reason I don't write erotica, folks.)
February 21st, 2014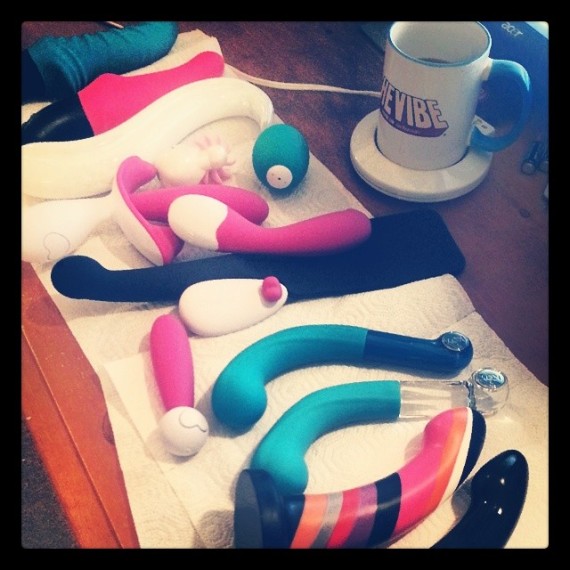 I've been known to lay out an optimistic number of sex toys before I jack off, but this spread represented a whole new level of delusion. So much delusion that I named it delusion.jpg.
The reason: I was leaving for a blogger retreat the following day, and I needed to solidify my thoughts about some toys so I could work on their reviews.
I won't bore you with the details of my toy combinations or my level of satisfaction with my orgasms, I will just say that only in my life do I have four orgasms and still not feel as though I have done my duty. The Stronics, Comets, and G-Spoon remained untainted.
February 22-25, 2014
During #dildoholiday, I did not masturbate per se. But at various points in the trip I:
What kind of friends are they, really, if you can't push vag balls inside of yourself while having a conversation with them?