Sad to say, but the SenseVibe has been discontinued. Why can't we have nice things?
The SenseVibe, much to my dismay, is not a fortune-telling sex toy. It can't give you the weather forecast or lift your mood. It cannot intuit what your vag or clit wants. It is, despite the enigmatic name, merely a rechargeable dual vibrator from a newish company named SenseMax.
I know what you're gonna say. "Piph, you don't even like rabbit-style toys, why would you want to try this one?" AN ASTUTE OBSERVATION, my friend, because yes — I am normally highly averse to dual vibes. They are very anatomy-specific, significantly less likely than other types of sex toys to properly align with genitals. They make grand promises of all-in-one stimulation, promises that often prove empty. They condition consumers to expect a single sex toy to give them everything and a bag of potato chips.
But I didn't want all that. I heard rumors that the SenseVibe had a very nice, rumbly motor. Like a dog's ears listening closely to a new sound, my clit pivoted forward with curiosity… and my affinity for deep vibrations prevailed over my default distaste for this type of sex toy. Which turns out to have been a good move, because the rumors are true. This thing has rumbles for days — and I love it. Just not as a dual vibe.
Whenever humanly possible, I'm whipping it out of my vag to press it against my clit instead.
Modestly sized at about 4″ insertable and 1.4″ in diameter, the SenseVibe comes in black and turquoise. (There's also a heated version.) The packaging is minimalist, so minimalist you might accidentally throw out the manual because it's literally attached to the box. Not that it contains much useful information; it doesn't offer advice on charging or outline any of the toy's settings. There are 8 modes, by the way, and a staggering 18 vibration intensities. EIGHTEEN. That's like 5x the average. Excuse me while I pop some champagne in celebration.
One stand-out feature of this toy is the charging case, an oblong white box with a connected USB cord. Although it doesn't close tightly enough for travel and I wish it had a light on the outside to indicate completion of the charging cycle, it's an awesome and discreet bonus. And it reminds me of the olden days, when companies weren't too cheap to make charging cases.
Now, might I interest you in a wee bit of nuance? I hope you're in the mood, because there are two distinct ways of looking at the SenseVibe: it is simultaneously a frustrating, ineffective rabbit-style toy — and a phenomenal clit-focused vibe. So, today, I offer you two takes: one negative and one positive. Which do you wanna hear first?
Let's not kid ourselves. You want the mean take first.
The bad: SenseVibe as a dual vibe
I gotta give the SenseVibe kudos for illuminating precisely why dual vibes often fail me. Amusingly, it's less about the shape itself — the shaft is inoffensive, and with some nudging, the clitoral portion generally does land OK on my clit — but more about the clitoral vibration and the lack of separate motor adjustability. Nerdy shit.
Tossing aside 6 of the 8 modes (patterns I'd rather eat cat food than try to have an orgasm during), there are only two I'll use. First, the clit-only steady mode, in which it becomes clear that the vibration quality in the clitoral nub of this toy is a bummer. It's far too buzzy. I have to click through about half the intensities before I can even fathom having an orgasm, and it's still not easy. It doesn't help that the shaft has not been optimized for G-spot stimulation. Without added vibration, it's just a bland, contoured rod.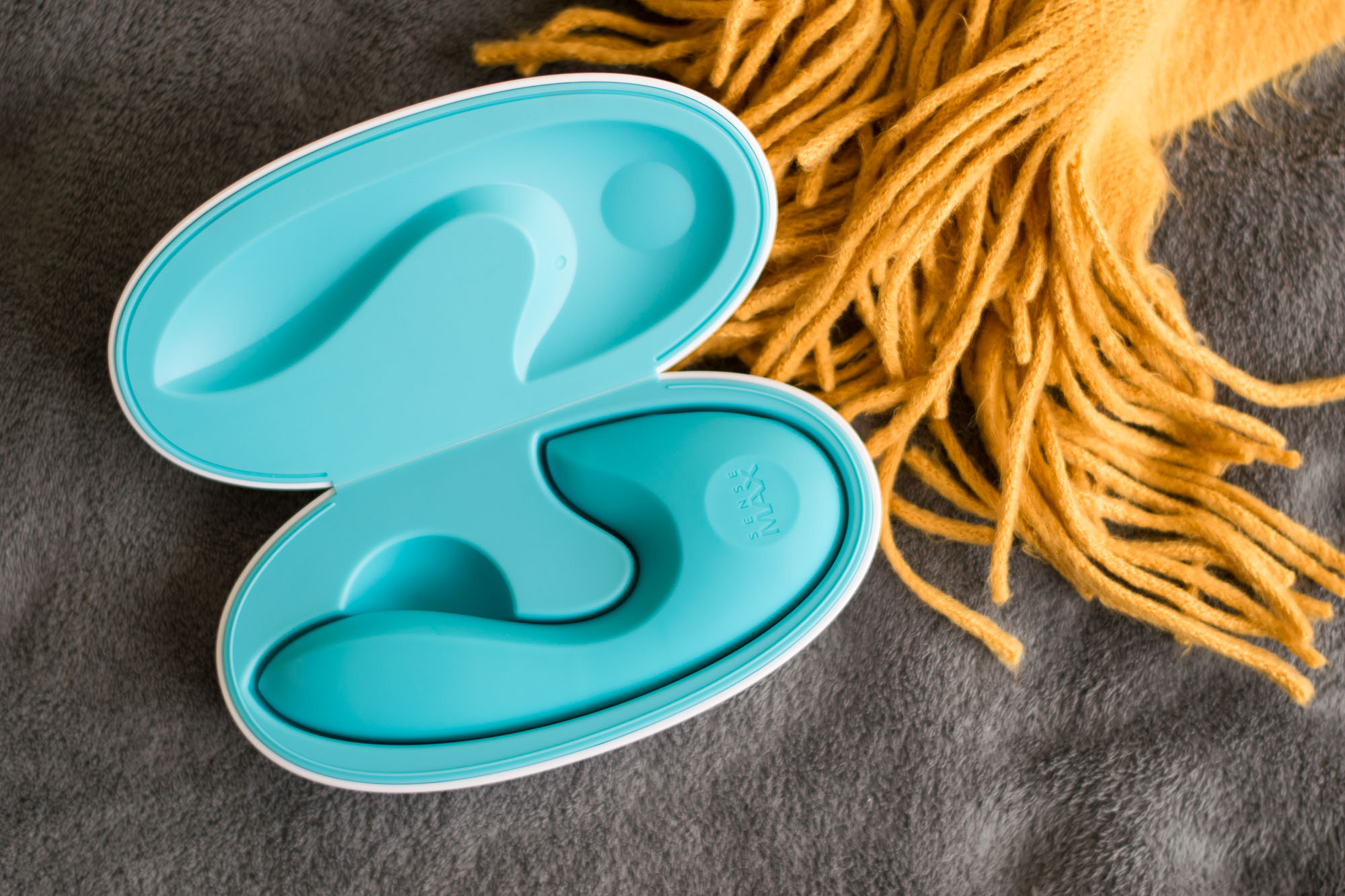 But with added vibration, I face a different dilemma: a case of overwhelmed genitals.
I dunno about the rest of you, but I do not like my vag buzzing at the same intensity as my clit. I just don't. My clit requires stronger vibration, enough to overpower my vagina, because — as much as I adore G-spot stimulation — most of my orgasms are clit-induced. With the SenseVibe, though, both motors are adjusted simultaneously, and if I want any hope of an orgasm I have to ramp up to a level that also makes my vagina buzz like a motherfucker.
No sir, I don't like it. Subtle internal vibrations can be nice, but high-intensity ones? They're distracting and brusque, like an electric jolt or an unreachable itch just under the skin. It feels as if my clit and its needs are being demoted in favor of vag-zapping.
I wouldn't go so far as to call the SenseVibe an orgasm ruiner, but used this way, it is an orgasm pleasure reducer, and my path toward climax is hindered by having to choose between two dissatisfying options: stronger clit vibrations and my vag being overstimulated, or lackluster clit vibrations and my vag at peace. Too much or not enough. This is why the We-Vibe Nova is basically the only rabbit I like — its motors can be adjusted independently, and the vibration in the clitoral arm is actually pleasurable.
Can the SenseVibe be used as an insertable only? Not really. You have to awkwardly wrestle the clitoral nub to the side, and the benefit is… nothing, because the shaft is boring.
The good — great, even: SenseVibe as a clit vibe
While the SenseVibe is not a good dual toy (I mean, if we want to get existential about it, is any rabbit-style vibe actually good? Kidding, sort of, but only sort of), it is a very good external vibrator. The two motors converge in the shaft, vibrating in tandem and producing supremely robust stimulation. So, for targeting my clit and my clit only? It's fucking excellent. One of the best I've ever used.
Not only are there are eighteen intensities to enjoy, and not only does this thing last 2.5 hours on high, but the thrumming vibrations are legit bound to spoil you. They've spoiled me. Almost everything else I love feels shallow in comparison: Mona 2, Rave, even the G5 toys and the two motors of the Elise 2. All these vibrators, apparently, are entry-level rumbly; the SenseVibe is executive-level rumbly. Rumbly af, as the kids would say. Without delving into larger toys,1 the only comparable vibrator is the L'Amourose Rosa.
Although the SenseVibe is more comfortable to hold than the Rosa, it's not as intuitive as toys with dedicated handles. I feel like a toddler trying to figure out how to grasp a squirt gun or something, unsure where all my fingers should rest. There's a bit of flex to the shaft, which isn't ideal for this scenario, and this toy does take forever to turn off when you hold down the minus button.2
The vibrations don't irritate my hand, though, unless I use it for an extended period of time.
You know you're a dork of a sex toy reviewer when you get excited about a low battery warning, but the SenseVibe has one of the most useful I've ever encountered. The light starts blinking at you when it's 15 minutes away from death. Not one minute, not five. Fifteen: an actually adequate amount of time to squeeze an orgasm out of the toy if desired. THANK YOU.
I remain somewhat disappointed by the shape of this toy, which only grazes the G-spot and prohibits the SenseVibe from serving as a versatile insertable like most of my faves. It also fails at its primary objective as a rabbit-style toy. But those willing to let go of the dual vibe functionality will be richly rewarded with sweet, sweet vibrations, because the way the SenseVibe leverages the power of its two motors is a beautiful thing. This toy has some of the most satisfying clitoral vibrations I've ever felt. Real talk.
Sad to say, but the SenseVibe has been discontinued. Why can't we have nice things?
Such as the uber-rumbly Doxy Don and extremely powerful Magic Wand Rechargeable