Some people might argue that mashed potatoes and gravy are the best thing about this time of year, but I'd argue that freakishly good sex toy deals win out. You can put both in your orifices, which is appealing, but food is temporary, and high-quality dildos are forever. Also, I don't recommend mashed potatoes as a lubricant. In case your mind was going there. Mine was.
The point is that if you have been waiting for a good price on the sex toy of your dreams, now is when you should bite the bullet. I watch sales and deals all year long, but this is when retailers tend to pull out all the stops. I even have some special coupons you won't find anywhere but here, and my Epiphora-exclusive codes will get you free lube, stickers, a free butt plug or dildo, gift cards, free international shipping, and even a fuckin' limited edition dildo!
I'm going to have deals from SheVibe, GoodVibes, Crystal Delights, Lovehoney, LELO, Tantus, Early to Bed, Smitten Kitten, Fun Factory, Babeland, Fleshlight, Sliquid, Stockroom, and Jimmyjane, plus porn-tastic sales, web hosting deals from HostGator, and the usual from Amazon.
I will be continually updating this post as more sales pop up, so use that refresh button!
My favorite deals of the moment (toy name links to my review):
SheVibe
BEST FOR: orders over $125, especially for the Doxy Wand, and more unique lines such as NobEssence, New York Toy Collective, Liberator, etc.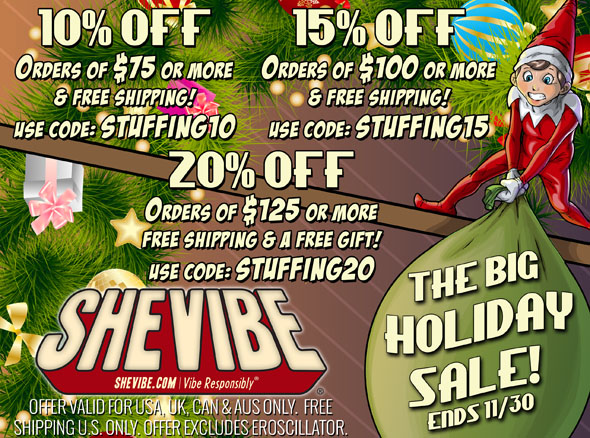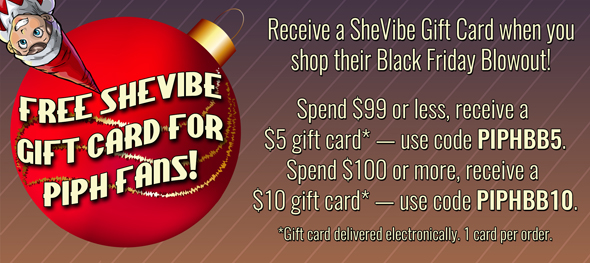 SheVibe is my favorite online shop. Not only is it run by amazing people who care, their selection is also pretty unparalleled. It's an escalating sale at SheVibe: the more you buy, the more you save! Plus free shipping in the US!
10% off orders over $75 with code STUFFING10
15% off orders over $100 with code STUFFING15
20% off orders over $125 (and a free gift!) with code STUFFING20
And just for my lovely peeps, get a $10 gift card (for future use) on orders of $100 or more with code PIPHBB10, or a $5 gift card on orders under $100 with code PIPHBB5. Multiple codes can be used, so you can combine these! SheVibe will also throw in a free lube sample and sticker!
Check out my favorites for what you should buy! To get the best discount, it's best to spend over $125, so now's the time for you to get a spendy but wonderful toy like the LELO Mona 2, Doxy Wand, or NobEssence Seduction.
Of course, if you get just a couple of my favorite things, you'll probably enter the $125+ threshold. Like the Pure Wand + Throw for squirting times, or Joque harness + Mustang for epic strap on play! Of all the shops on this page, SheVibe has the best selection of Vixen Creations dildos, Liberator, NobEssence (I believe they're the only shop stocking my beloved Romp), and New York Toy Collective.
This sale runs Wednesday, November 25th through Monday, December 30th.
GoodVibes
BEST FOR: orders over $150, and you'll get a free bottle of lube!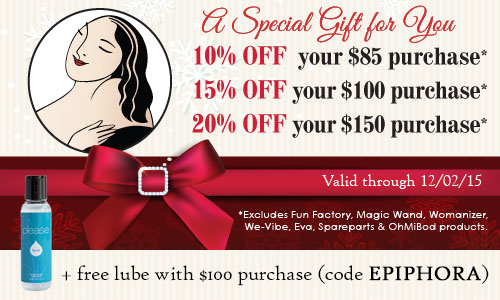 Through 12/2, Good Vibes is offering a 3-tier sale with limited exclusions. 10% off order over $85, 15% off order over $100, and 20% off order over $150, plus a free bottle of Please lube with code EPIPHORA!
I suggest you get something from my favorites page, like a Mona 2, Maverick, Stronic Eins, Magic Wand Rechargeable, Pure Plug, Comet II Wand, Vibratex Mystic Wand, or Liberator Throw. Don't like my suggestions? They have a bunch o' gift guides.
Crystal Delights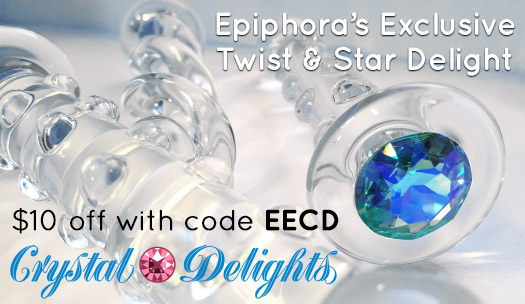 Do you, as I do, salivate at the idea of a limited edition sex toy? Do you also like swanky yet functional glass dildos? Then you should pick up this beautimous Epiphora's Exclusive Star Delight or Epiphora's Exclusive Twist with glacier blue aqua Swarovski crystal (a color not currently used in any Crystal Delights toys)! These gorgeous dildos are two of the best I've ever tried. They make the perfect gift, to yourself or a loved one. Way better than jewelry.
Use code EECD to get $10 off either of these dildos.
Otherwise, get a 10% discount on your order and a little holiday gift made by Crystal Delights with coupon code code HH2U, or get free shipping with code SHIPFREE (only one code per order).
Lovehoney
BEST FOR: international purchases of toys I adore, especially the OhMiBod Lovelife Cuddle, We-Vibe Touch and Tango, Vibratex Mystic Wand, and Vixen Mustang.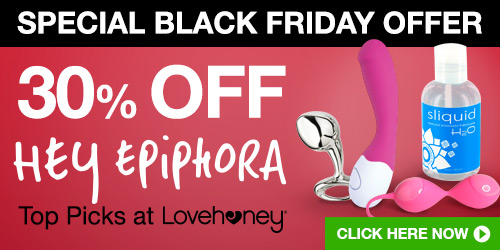 My favorite worldwide sex toy shop, Lovehoney, is offering a steep 30% off my favorite toys, among their other sales and special offers, through 11/30. This deal gives you the best price on the OhMiBod Lovelife Cuddle, We-Vibe Touch and Tango, Vibratex Mystic Wand, and Vixen Mustang. This offer ends at 11:59 pm (time zone according to the site you're ordering from) on Wednesday, December 2nd.
Those links should take you directly to the Lovehoney that corresponds to your location. If not, try these:
LELO
BEST FOR: international purchases of LELO products.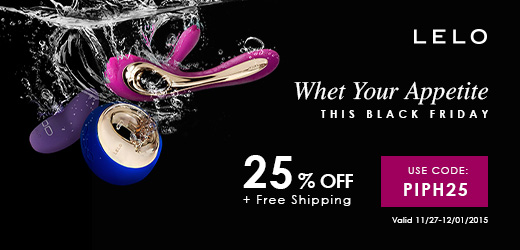 Get 25% off all sex toys and free shipping (EVEN ON INTERNATIONAL ORDERS!) at LELO. Use code PIPH25. This code expires on Tuesday, December 1st.
LELO thoughtfully helped me compile my favorite products of theirs on this page so you can just shop from there. Do you have a clitoris? You need the Mona 2 (here's why, and here's another reason why). I also love the Luna Beads (review here), Mia (review here), and Siri (review here). Also, if you've been wanting the astronomically expensive but rumored to be awesome Hugo prostate vibrator, it's $164.25.
Tantus
BEST FOR: really inexpensive silicone butt plugs and dildos, specific Tantus toys.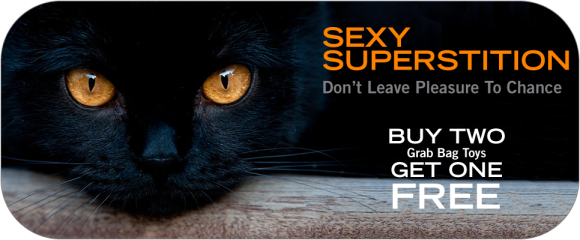 While supplies last, buy two grab bag toys and get the third free! Grab bag toys come in mystery colors. I particularly love the simple yet filling Ryder plug (my review), small but mighty G-spotter Sport, and the Goddess Handle for some extra leverage. Plus, you can use code EPIPHORA to get an additional 15% off already amazing sale prices.
Otherwise, Tantus makes so many things I love. My favorite anal toys are the Ryder (my review), Neo, Juice, and Ripple (my review), and some excellent dildos I'd recommend would be the Cush (my review), Echo (my review), Goddess (my review), Duke, Slow Drive, Sport, and Max. The Super Soft C Ring is also rad.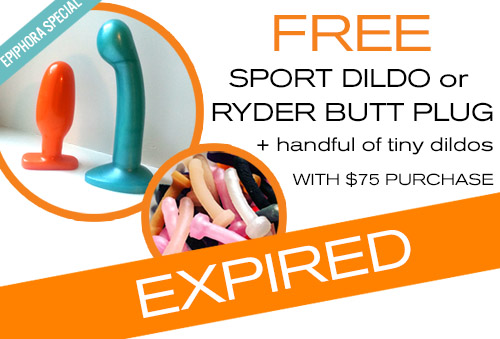 Just for my readers, get 15% off, a handful of tiny dildos (while supplies last), and a free grab bag Ryder or Sport (your choice) with purchases over $75 with code PIPHRYDER or PIPHSPORT. No need to add the grab bag item to your cart. What should you get? Here are my picks.
Early to Bed
BEST FOR: the LELO Mona 2, purchases of less expensive items and rare items from my favorites list, such as cute butt plugs, Vixen Creations single-density dildos, and porn DVDs.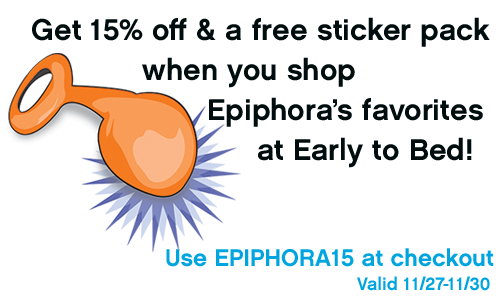 Do you understand how madly in love I am with Early to Bed? Especially because they worked with me on a special deal just for my readers again this year. Black Friday through Cyber Monday, buy at least one product from my favorites page and get 15% off your total order and a free "Your Bits are Beautiful" sticker pack! Just use coupon code EPIPHORA15. Otherwise, you can get 10% off everything else site-wide!
Early to Bed is the cheapest place to get my favorite vibrator, the LELO Mona 2, right now! They are also especially great for non-dual-density dildos from Vixen that I love: Woody, Leo, Randy, and Large Real Bent (Claire). Here, you can also get the a good deal on the Hitachi, Cuddle, and Moka.
Although this may not be the steepest discount you can get, Early to Bed is one of the greatest little indie sex shops around. They're not afraid to call out sexism and stupidity in the industry and they work their butts off to provide accurate sex ed day after day, so you should support them!
This coupon is valid Friday, November 27th through Monday, November 30th.
Smitten Kitten
BEST FOR: good-hearted folks wanting to support one of the most progressive indie sex shops around, especially for purchases of Hole Punch Toys, Vixen Creations, Pure Plugs, Liberator Throw, and Magic Wand Rechargeable.

I heart Smitten Kitten in unnatural ways. Cyber Monday only, get 20% off everything on their site with code GET20! My picks are chronicled here, but let me reiterate: it's really important that you order their special reusable "This Bag is Full of Sex Toys" bag.
Smitten Kitten also carries Hole Punch Toys and other small manufacturers such as Fuze, Happy Valley, and New York Toy Collective. Feminist to the core, Smitten Kitten's fierce commitment to accessibility is evidenced by their gender expression section, range of inexpensive toys, and selection of products for all bodies and abilities.
Fun Factory US
BEST FOR: an impressive and rare discount on Fun Factory products for US folks.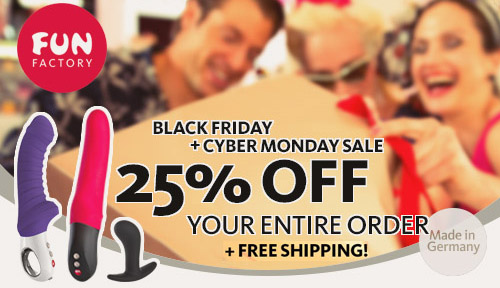 Fun Factory toys don't go on sale much, so don't pass up this offer if you've been wanting something from them! Free shipping too! This sale ends Wednesday, December 2nd.
Their G5 line of vibes is impressively powerful and awesome (I like the Big Boss and Tiger most), and at $104 each, a really good deal. The innovative thrusting toy Stronic Eins (my review) and its mates are cut down from $200 to $150. I recently tried and enjoyed the Bouncer, and its sale price of $75 is tantalizing.
Fun Factory's silicone anal toys, like the Bootie plug (my review) and Flexi Felix beads, are great too. They also make the Cobra Libre II, a rechargeable vibrating penis stimulator.
Babeland
BEST FOR: a discount on everything — the best one on the LELO Mona 2, and a good one on toys from njoy, Fun Factory, or We-Vibe.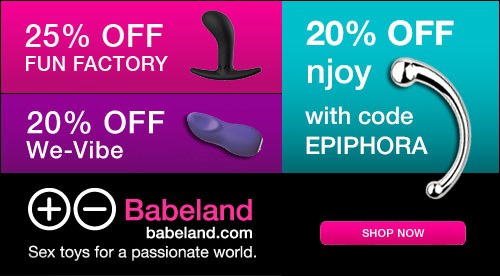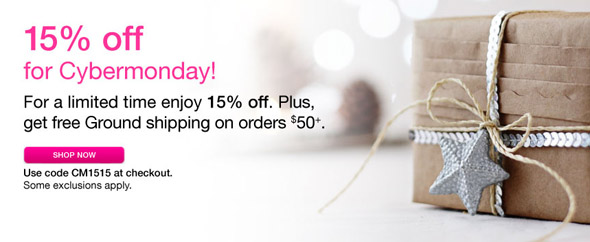 The sale at Babeland is 15% off everything with code CM1515 (through 12/1), and even more of a discount on specific product lines, and they're all good ones! Visit my newly-minted favorites page for ideas on what to get, but the LELO Mona 2 is one of the best deals, at ~$118.
My fave vibes are the We-Vibe Tango, We-Vibe Touch, Magic Wand Rechargeable, LELO Mia 2, LELO Mona 2, Babeland Silver Bullet, Blueberry Buzz, Lovelife Cuddle, Picobong Ako, Picobong Moka, Hitachi Magic Wand, and Vibratex Mystic Wand. When it comes to dildos, you can't go wrong with the njoy Pure Wand, Fun Factory Stronic Eins, and/or pretty much anything from Vixen Creations. They also have the Babeland-exclusive colors of Mustang and Leo. For your butt, get a njoy Pure Plug because they are perfection. Top things off with a Joque harness and Under the Bed Restraint System.
25% off Fun Factory through 12/2.
Fun Factory's best innovations are their pulsators, which thrust rather than vibrate (I loooove the Eins). Their Bootie is my all-time favorite silicone anal plug, I enjoy the odd sensations of the Bouncer, and the Tiger G5 and Big Boss are rumbly, strong vibrators for your money.
20% off We-Vibe through 11/30.
The We-Vibe Tango and We-Vibe Touch are the kings of the small rechargeable vibe market, with deep vibrations that other toys can only dream to achieve. There's also the Pleasure Mates Collection, which comes with a Tango and a butt plug sleeve that I fashioned into a hands-free clitoral orgasm device.
20% off njoy through 11/30 with code EPIPHORA.
Stainless steel wonders for your orifices, YES, as it should be. Everyone needs a Pure Wand ("this dildo will alter your perception of sexual pleasure forever," I once said, and I stand by that) and a Pure Plug ("put one in your ass, be astounded, THE END").
Fleshlight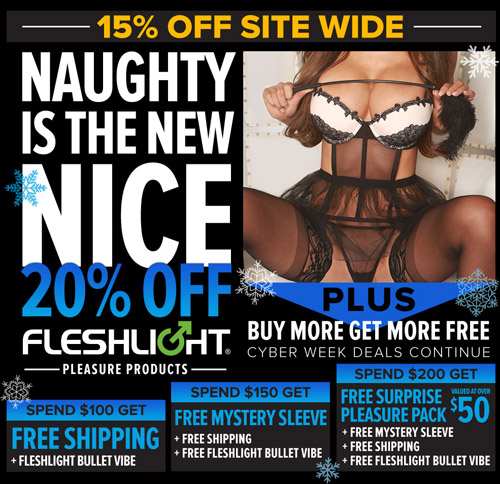 Fleshlight is having a huge sale! 15% off sitewide, 20% off Fleshlight-branded products! Pluuuuus… buy more, get more free!
Spend $100 and get free shipping + bullet vibe
Spend $150 and get a free mystery sleeve + free shipping + bullet vibe
Spend $200 and get a free surprise pleasure pack + free mystery sleeve + free shipping + bullet vibe
Sliquid
BEST FOR: people who just want some lube, goddamnit, without having to buy other junk!

Sliquid is my favorite lube ever. Get 15% off all orders at Sliquid, Black Friday through Cyber Monday. The best part about this sale is that you can get an additional 10% off with code EPIPHORA, so bottles of my faves H2O and Sassy are just about $10!
Stockroom
BEST FOR: kinky toys, electrostim toys, and other bondage gear.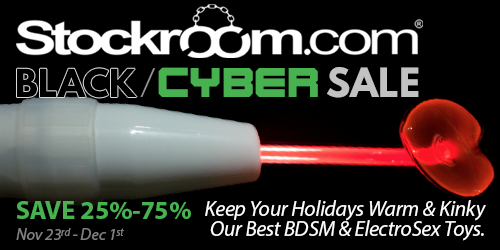 Save up to 75% off in this sale from Stockroom, which runs now through Tuesday, December 1st. The awesome estim Neon Wand is a whopping 35% off at only $97.50, and various electrodes for it are also on sale! Many other BDSM implements are discounted as well.

Stockroom also has 25% off select Fun Factory toys through 12/1! I swear this is the last time I'll tell you how much you need the Stronic Eins…
Jimmyjane
BEST FOR: Jimmyjane products specifically.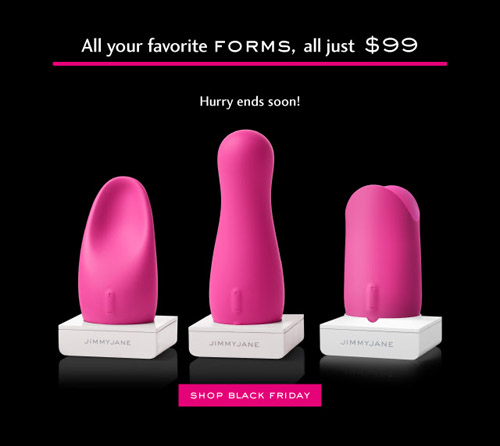 Jimmyjane is having a sitewide sale, and some of their Form vibrators are only $99. I'm okay with the Form 4.
Porn!
BEST FOR: porn mongers!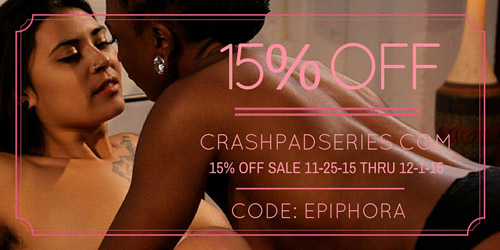 Get 15% off any membership to queer porn empire CrashPadSeries.com (the best deal they've ever offered!) with code EPIPHORA through Tuesday, December 1st! Arguably one of the greatest queer porn sites on the internet, Crash Pad documents hotties of all flavors sexing it up in beautifully-shot harmony. It will make you wanna masturbate.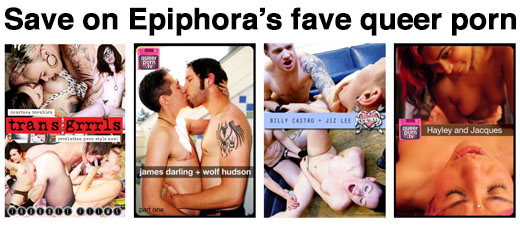 Huurah! I set up a deal with Courtney Trouble to put four of my favorite scenes/movies on sale at Real Queer Porn!
Not feeling any of these? Real Queer Porn has a "porn under $10" section, and other specials listed on the homepage.

Want mainstream smut? Check out Gamelink's huge Black Friday sale with up to 40% off movies through November 30th!
HostGator
BEST FOR: budding bloggers needing a kick in the pants to start that blog.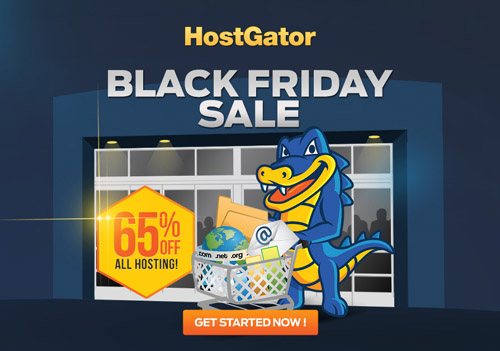 My awesome sex-positive host, HostGator, is offering 65% off all new hosting packages from Friday, November 27th through Monday, November 30th at 11:59pm CST. They're also offering .com and .net domains for just $5.99. Why should you go with them for hosting? I shall tell you.
From Friday, November 27th to Monday November 30th, there will be select flash sales featuring 80% off all new hosting packages and $2.99 .net and .com domains.
Amazon
BEST FOR: your non-sex toy purchases, because you love me.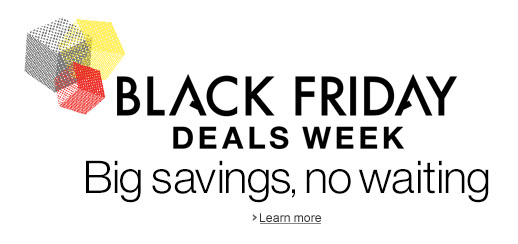 If you're shopping for non-sex-toys at Amazon, might I gently cajole you into clearing your browser cookies and using my affiliate link?
Be the coolest sex toy fanatic on the block with your very own lube dispenser (my review), over-the-door sex toy organizer, USB charging station, or plastic storage cart!
Or, other products I love that you should get (for yourself or as gifts): an Oontz bluetooth speaker, a sturdy-ass Camelbak water bottle, THE BEST EVER WINE OPENER, my favorite game, a Kindle, socks that somehow never stink (?! it's a MYSTERY), a handy spice rack, and my fave nail polish top coat. Also, one time I got my republican grandpa this toilet paper with $100 bills on it and it was a riot.