Hi, hello, I'm commemorating 10 years of sex blogging with the most extravagant sex toy giveaway I've ever done. I'm giving away 80+ of the best sex toys ever made, as judged by my discerning vagina. Then, because that wasn't enough, there's a grand prize pack of my very favorite products worth over $1,000 — with 10 runners-up. SO MANY WINNERS.
Peeps, I've got everything here from vibrators to dildos to butt stuff to penis toys to harnesses to gender products and BDSM implements, plus gift cards for the indecisive and a porn membership for the pervs! There are even a bunch of "winner's choice" prizes, where you can win any toy you desire from the catalogs of Tantus, New York Toy Collective, Womanizer, OhMiBod, Fuze, Vixen Creations, Downunder Toys, Minna, and Self Delve (YES, FRUIT- AND VEGETABLE-SHAPED DILDOS). [Skip straight to the giveaway widget here.]
As always, classic favorites such as the Pure Wand, Magic Wand Rechargeable, and Stronic Eins are up for grabs, but there's also new stuff this year, such as the We-Vibe Sync, Zumio, LELO Sona (just released!), Unicorn Wand, We-Vibe Ditto, BJ Dildo, Fun Factory Sexual Wellness Pack, and We-Vibe Pivot. Most of these prizes are valued at or over $100, because I have expensive taste and you deserve fancy shit. Plus, more than half the prizes are available to international folks!

Grand Prize Pack (worth $1,000): Boris' spy mission
Hallo, this isss Boris speaking. I have secret classified mission for you, should you choose to accept. Reward isss great: big huge prize pack of human's best favorite sexy toys. (No twisty ties included, though. It is oversight.) To be eligible, you must become sneaky spy like me, member of CIA — Cat Intelligence Agency — for Operation: Recover Tiny Dildos.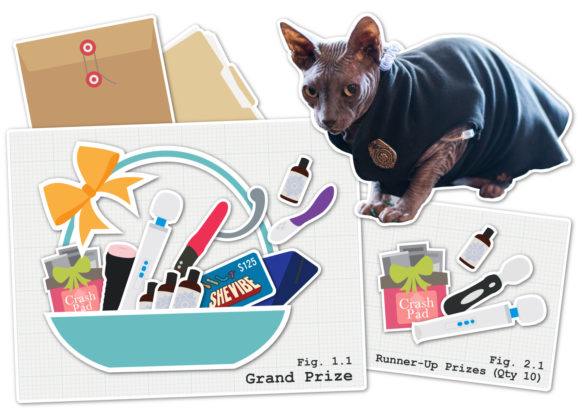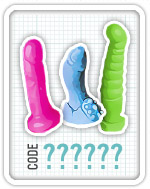 I have swiped human's tiny dildos and stashed them throughout blog. Using my clues, you must infiltrate blog, locate drop points, and recover dildos with corresponding secret code. Codes you then input in giveaway widget. Agents who find most codes will be entered to win grand prize pack!
I give you 5 clues to begin, then each Thursday during giveaway, I will release 5 new clues in giveaway widget to aid in search. (Follow human on the Twitters or Facebooks to get alerts.) I suggest desktop version of site for hunting. You must act alone, under cover — contact with fellow spies prohibited and no funny business.
GRAND PRIZE "Top Agent" wins:
10 RUNNER-UP "Sleeper Agents" win:
This mission open to all spies-in-training, international and domestic. Runners-up will still be eligible for one more prize from their top 5 list. Grand prize winner will not.
How to enter
Read about each of the prizes below, sorted by those open to international entrants and those restricted to US entrants. Choose 1-5 prizes you want most (carefully — you can't change your picks after you've entered), then enter using the widget below or on the giveaway landing page.
Read before entering: Take note of the account you used to sign in, as you will need it again if you return on a different day. To ensure your entries are properly counted, please disable any ad-blocking extensions or software before entering. Some entry techniques require Gleam authentication. Do not be alarmed; this simply makes it easier for me to verify entries. Problems? Email me or [email protected].
Decade of sex toys giveaway! Grand prize worth $1,000+!

This giveaway ends Monday, November 13th at 11:59 pm PST.
MASSIVE THANKS to all the lovely companies who donated: Babeland, Crystal Delights, Dallas Novelty, Downunder Toys, Doxy, Early to Bed, Fun Factory, Fuze, Good Vibrations, Hole Punch Toys, Hot Octopuss, Jopen, L'Amourose, LELO, Liberator, Lovehoney, Minna, New York Toy Collective, njoy, NobEssence, OhMiBod, Peepshow Toys, Pink & White, Pleasure Chest, Self Delve, SheVibe, Sliquid, Smitten Kitten, Stockroom, Tantus, Tenga, Twisted Monk, Vibratex, Vixen Creations, We-Vibe, Womanizer, and Zumio.
Y'all are rockstars.
Open to everyone / international entrants
Note: while these generous donors have agreed to ship internationally, there may still be restrictions shipping to certain countries. Please read descriptions carefully.
The tokidoki Unicorn Wand, donated by Lovehoney.

Is there anything more magical? This adjustable wand vibrator comes with a colorful unicorn head attachment. It's whimsical as shit — and powerful as shit, too.


A $125 gift card to Smitten Kitten.

Not seeing the toy of your dreams on this list? Snag a gift card to this progressive, feminist sex shop and you can choose whatever you want from their lovingly-curated selection.

The LELO Mona 2, donated by LELO.

I never tire of giving away Monas. This unstoppable vibrator is well-rounded as fuck, with a vibration range that could suit almost anyone. It's so good I own three of them.

The We-Vibe Sync, donated by We-Vibe.

This unique, app-responsive toy can be worn during penetration (or not!) to provide clitoral vibration. My favorite part, though? It's fully adjustable to account for varying anatomies.

The njoy Pure Plug in your choice of size, donated by njoy.

One time I joked about the stainless steel Pure Plug staying with me after I die, placed in a nook next to my urn. I do not regret this. This butt plug is perfection incarnate.

A super pinpoint rechargeable vibrator — seriously, VERY PINPOINT — that impressed me so much with its stimulation I'm including it here before even reviewing it. What. That never happens.

The Spareparts Hardwear Joque harness, donated by Dallas Novelty.

So comfortable, so adjustable, so perfect. This harness, my favorite of all time, makes strap-on sex worth having.

The Self Delve toy of your choice, donated by Self Delve.

Might I interest you in a fruit- or vegetable-shaped sex toy? Self Delve makes silicone dildos shaped like eggplants, corn, bananas, cucumbers, and more. Some of their toys even use thermochromic pigments, so they change color with temperature.

The Doxy Don, donated by Doxy.

It may resemble a bowling pin, but the glory of the Don lies in its AC power, which results in extremely thuddy vibrations all funneled into a pinpoint tip.

The We-Vibe Pleasure Mate Collection, donated by We-Vibe.

My world changed when I discovered hands-free orgasms thanks to two toys in this collection — the Dusk "butt plug" and Tango vibrator combined.

The Fuze toy of your choice, donated by Fuze.

Canadian toy company Fuze is known for their sleek, stylized silicone toys — many with innovative, curved bases for ergonomic harness use. Which one would you pick?

The LELO Loki, donated by LELO.

It's the BUTT MONA! For your butt! With a flared base! Because you should put vibrating things in your butt! Also, that blue.

A Fleshlight of your choice, donated by Dallas Novelty.

The years go by, and the Fleshlight remains the gold standard for my most treasured penis owner (my boyfriend). With this prize, you have your pick of the litter.

The We-Vibe Pivot, donated by We-Vibe.

If there's anyone I trust to make a quality luxury cock ring, it's We-Vibe. The vibrations in this thing are amazingly rumbly — and you can control the toy with an app!

The NobEssence Romp, donated by SheVibe.

The Romp is a gorgeous, ergonomic wooden plug with a comfortable butt-cheek-friendly base. Its majestic shape will make you believe in heaven. OK, maybe I'm getting out of hand. Or maybe not…

Note: Winner must live in the US, UK, Canada, or Australia.

A year membership to Crash Pad Series, donated by Pink & White.

Yeah. I'm jealous of this prize. Crash Pad Series is full of sizzling hot queer porn and they have sorting options up the wazoo — so if you want to see a scene starring Chelsea Poe (swoon) or featuring strap-ons, you can do that in 2 seconds flat.

The We-Vibe Touch, donated by We-Vibe.

This petite rechargeable vibe is small enough to nestle in the palm, but equipped with enough oomph to satisfy. That's a hard combo to find. Trust me.

The njoy Pure Wand, donated by njoy.

Oh, only the toy that has taught millions1 of vaginas to squirt. Just one of the greatest G-spotting dildos of all time. Your G-spot will sing like a choir of angels. Whatever.

The LELO Sona, donated by LELO.

Just released a mere few days ago, the Sona is a clit-enveloping sex toy that uses sonic waves — not vibration — to stimulate. Oooh, ahhh.

The Tantus toy of your choice, donated by Tantus.

If you're in need of a high-quality silicone dildo or butt plug (and who isn't?), this prize is for you. Oh dang, what will you get? Cush? Ryder? Something else from their dual-density O2 line? So many possibilities!

The Liberator Wedge, donated by Liberator.

Sex positions become infinitely better — and oh my god, easier — when you have a Wedge lying around. Truly, one of the unsung heroes of my repertoire.

Note: Winner will be responsible for any customs/duties fees.

The We-Vibe Ditto, donated by We-Vibe.

Want to give someone a jolt of vibration in their ass from anywhere on earth? Do it with this app-responsive butt plug.

The Tenga Flip Hole of your choice, donated by Tenga.

Known as one of the best masturbation sleeves around, the Flip Hole comes in several styles and textures, including the Flip 0 which, fittingly, was released as Tenga's 10-year anniversary product! Put yer dick in it.

The (sparkle!) Doxy Die Cast, donated by Doxy.

LOOK. IT IS SPARKLY LIKE DOROTHY'S SLIPPERS. It comes in red, purple, black, and white sparkle! Do I really have to say more? Fine, it's a very good wand vibrator too.

The We-Vibe Tango, donated by We-Vibe.

Small but very mighty, the We-Vibe Tango will rattle your clit into oblivion. Subtlety will not be involved.

A $125 gift card to Peepshow Toys!

Have your eye on a toy that's not on this list? Pick out whatever you'd like with this gift card! I love Peepshow's commitment to body-safe products, and they stock a lot of my favorite things.





The LELO Siri 2, donated by LELO.

Now with a more powerful motor, LELO's humble little Siri is officially a contender for best rechargeable clitoral vibe on the market.

The We-Vibe Rave, donated by We-Vibe.

Intriguingly asymmetrical in its shape, the Rave is a wonderful external or internal toy, and it can be controlled with a phone app. From anywhere, yo.

The Liberator Throw, donated by Liberator.

The most water-resistant sex blanket available today. You, too, can experience the peace of mind that comes with having a Throw under your butt.

Note: Winner will be responsible for any customs/duties fees.

The Hot Octopuss Pulse III Duo, donated by Hot Octopuss.

The Pulse is one of the most unique penis toys on the market. It can be used while hard or flaccid, with or without a partner, and this newer remote-controlled version features 25% more powerful vibrations.

The Downunder Toys toy of your choice, donated by Downunder Toys.

Get something cool from this awesome indie silicone sex toy manufacturer. They make whimsical designs like the Koala Kiss, colorful Hitachi replacement heads, and their own dual-density dildos (!!!).

The Spareparts Hardwear Tomboi or Tomboii, donated by Dallas Novelty.

Wanna fuck, but still wanna look like the cutest queer on the block? Boom: the Tomboi and Tomboii underwear-style harnesses. The Tomboii boxer briefs style has two O-rings and three vibrator pockets.

The njoy Eleven, donated by njoy.

It weighs three pounds. You can kill intruders with it. You can also stuff your orifices to the brim with it, if you dare — this stainless steel beast is 2″ in diameter at its widest part.

The LELO Hugo, donated by LELO.

This prostate toy is freakishly powerful and controlled via remote, so you can buzz your prostate into oblivion from afar (or near).
Open to U.S. entrants only
The Fun Factory Stronic Eins, donated by Fun Factory.

The Stronic Eins does not vibrate; it THRUSTS. And if you prop it up against a pillow, you don't even have to hold it. I often crave it specifically — a sure sign of excellence in my household.

The Magic Wand Rechargeable, donated by Vibratex.

The Magic Wand is one of the strongest vibrators ever — loved by those with all sorts of genitals. I fell in love all over again when they introduced a rechargeable version. YES.

Open to winners in North America.

The BJ Dildo, donated by Good Vibrations.

Y'all, this is a very important product. If you snuggle the base against someone's body and suck on the tip, the suction transfers to the wearer's genitals!

Open to winners in the US and Canada.

The Womanizer of your choice, donated by Womanizer.

Easily one of the most innovative sex toys of the past several years, the Womanizer stimulates with air and suction rather than vibration. It is peculiar and, I must say, quite pleasurable.

Open to winners in North and South America.

The Eroscillator 2 Plus, donated by Pleasure Chest.

Look past its fugly exterior to the toy within — this toy oscillates, and it feels different and deeper than a traditional vibrator. Plus it has stood the test of time, holding up as one of the greatest clitoral stimulators I've ever tried.

The New York Toy Collective toy of your choice, donated by New York Toy Collective.

Silicone realistic dildos with bendable inner cores? That you can pack and play with? Yes, it's true, and the cushion of these dildos makes them awesome for strap-on play.

The Crystal Delights anal plug of your choice, donated by Crystal Delights.

Honestly, now that Crystal Delights butt plugs exist, I'm annoyed when any glass plug doesn't have a Swarovski crystal in its base. With this prize, choose the plug shape and crystal color of your wildest dreams!

The Neon Wand, donated by Stockroom.

I didn't think electrostim was my thing, and then I tried the Neon Wand. The adjustable intensity dial and array of electrode attachments make this a versatile sensation toy. Zap zap!

Open to winners in the US and Canada.

A $125 gift card to Hole Punch Toys, donated by Hole Punch Toys.

This little operation makes hand-poured silicone sex toys in fantastical shapes, such as carrot and radish butt plugs, ice cream anal toys, and rocket ship strap-ons. Which one would you choose?

Open to winners in the US and Canada.

The L'Amourose Rosa Rouge, donated by L'Amourose.

The two profoundly rumbly motors in this toy are more than enough to make it amazing… but it also heats up.

The Crystal Delights Epiphora-Exclusive dildo of your choice, donated by Crystal Delights.

Fact: Crystal Delights makes both of my favorite glass dildos: the swirly Crystal Twist and bumpy Star Delight. Win this prize and you can have whichever one you'd like, with special Epiphora-colored Swarovski crystal base.

The Butt Pack (Bootie + B Ball Uno + Flexi Felix), donated by Fun Factory.

Why settle for one anal toy when you can win THREE? With the perfectly-curved Bootie plug, the jiggle-ball-containing B Ball Uno, and Flexi Felix anal beads, this set is a great introduction to anal play.

The Fun Factory Big Boss G5, donated by Fun Factory.

I am super impressed with this girthy toy from Fun Factory. Incredibly powerful, flexible, and intuitive, the Big Boss G5 (with new and improved clicky buttons!) is a triumph of modern vibrator-making.

The Babeland Mustang, donated by Babeland.

Made of unbeatable dual-density silicone, the Mustang is a perfectly-shaped dildo that never disappoints. This is Babeland's exclusive version in striking black and pink!

Open to winners in the US and Canada.


The Jopen Key Comet II Wand, donated by Jopen.

This silicone-dipped vibrator is disgustingly good at G-spotting. The drag of the silicone is amazing at replicating the "come hither" motion that G-spots love.

A VixSkin dildo of your choice, donated by Vixen Creations.

Ooh, friend, if you haven't experienced VixSkin dual-density silicone yet, you must. It will spoil you for life. Choose from any of Vixen's amazing designs — my faves are the Buck, Mustang, and Maverick.

A $125 credit to the gender expression category at Early to Bed!

Get a cool hundred-and-twenty-five to spend in Early to Bed's impressive gender expression category, which includes packers, binders, sleeves, DVDs, harnesses, STPs, and more!

The Crystal Delights Tail of your choice, donated by Crystal Delights.

A glorious glass butt plug with a tail attached, just for you! Which will it be — a pony tail, a bunny tail, or a fluffy fur tail?

The Twisted Monk Rope Pack, donated by Twisted Monk.

Dive into rope bondage! This pack includes two 20-foot lengths and one 40-foot length of hand-spun RAINBOW bamboo rope (similar to this), safety scissors, two books, and an instructional DVD, all beautifully gift wrapped.

The L'Amourose Prism V, donated by L'Amourose.

Exceedingly versatile and impeccably-designed, the Prism V is everything a good rechargeable vibrator should be. Plus, it looks cool as hell.

The Minna toy of your choice, donated by Minna.

Choose between the Ola, with which you can record your own vibration patterns, or the kGoal, which lets you play games with your vagina and improve your PC muscle strength in the process.

The Sexual Wellness Pack (Smartballs Duo + Fun Cup Explore Kit + B Ball Uno), donated by Fun Factory.

Keep your pelvic floor on the up-and-up with kegel balls, enjoy some new butt sensations with the B Ball Uno, and experience the glory of menstrual cups with two sizes of Fun Cup!

The NobEssence Seduction, donated by NobEssence.

The Seduction is one of my top 3 G-spot dildos of all time. That big end. Holy shit. This Seduction is made of Elanthai, a wood type no longer being supplied via distribution, so it's extra special.

The OhMiBod toy of your choice, donated by OhMiBod.

Most known for their sound-responsive vibrators (such as the Club Vibe, beloved by cam models), OhMiBod also makes the solid Lovelife Cuddle, and its app-controlled cousin, the Nex 2. Pick your favorite from their array of fun stuff.

The Fun Factory Bouncer, donated by Fun Factory.

It's a dildo with several kegel balls housed within it. YEAH. That means when you move it around, the balls roll. Do you see where I'm going with this? It feels very nice.

The L'Amourosa Rosa, donated by L'Amourose.

Deeply rumbly vibrations surpassing most other sex toys on the scene. If you've been dissatisfied with other vibrators before, this one's for you.